My great-grandmother Anna Gertrude Tarkington was born on 16 April 1889 in Nashville, Tennessee. She was the fourth of five children, and youngest daughter, of James William Tarkington and Anna Malvina Binkley. When she was five years old, her father died. In
1900
, she lived with her mother, her maternal grandmother Angeline (Mayo) Binkley, her sister Viola Maydell, and her brother Robert. Her oldest sister Laura Belle had married Patrick Henry Leech and lived nearby. When the 1900 United States census was taken, her sister
Margaret
was enumerated in the household of their paternal grandparents. By 1905, Gertrude was working as a telephone operator for the East Tennessee Telephone Company.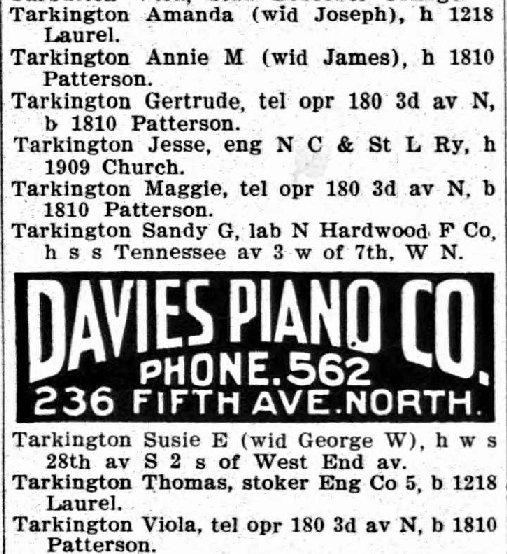 Nashville City Directory, 1905. Nashville, TN: Marshall-Bruce-Polk Co. Available from Ancestry.com. U.S. City Directories, 1821-1989 [database on-line]. Provo, UT, USA: Ancestry.com Operations, Inc., 2011.
On 12 June 1907, Gertrude gave birth to a son,
Robert Leland Taylor
. He died on 4 July 1907 and was buried in the family cemetery in Vaughn's Gap, Tennessee. Gertrude's sister Margaret "Maggie" was the informant on the death certificate; she stated that the father was unknown. But since her child had a different surname, Gertrude must have known who his father was. I suspect that Maggie also knew, but did not wish to reveal his name.
On 19 November 1909, Gertrude married
Henry Brown Gatlin
in Nashville. She probably did not know it, but he had not yet divorced his first wife Rose Kuenninger. Shortly after their marriage, Henry and Gertrude moved to Chicago, Illinois. Their first child, my paternal grandfather
Henry Cornelius Gatlin
, was born in Chicago on 14 April 1910. My grandfather should have been enumerated in the 1910 United States census; it was supposed to include everyone who was in the household on 15 April 1910. However, he was not enumerated. Henry and Gertrude were incorrectly enumerated under the surname
Galter
. They were lodgers in the household of N. King, and several other lodgers also resided in the household. Gertrude and Henry were probably not the ones who provided the information to the census taker. Henry divorced his first wife Rose in 1916, probably without telling Gertrude.
On 26 June 1923, Gertrude gave birth to a stillborn son,
Eugene Joseph Gatlin
. The stillbirth was caused by
placenta previa
. Eugene Joseph was buried in Oak Forest Cemetery, Oak Forest, Cook County, Illinois.
On 29 November 1929, Gertrude filed for divorce. On 26 August 1929, while he was drunk, her husband Henry had threatened her life and thrown her out of their home. He later tried to break into her new residence with the intention of hurting her. She obtained a restraining order against him. Because no one appeared to prosecute the case, it was dismissed. She and her husband remained separated. In the
1930 United States census
, Gertrude and her son (my grandfather) were living in the household of
Walter E. Davis
. They were listed as lodgers. Like Gertrude, Walter had been born in Tennessee. They later married. I suspect that they were already in a relationship at the time that the 1930 U.S. Census was taken. Gertrude was listed as widowed, but her husband was still alive.
On 24 January 1935, Gertrude's mother passed away in Memphis, Tennessee. She had been visiting her granddaughter (Gertrude's niece) Nina (Leech) Clark. Gertrude was the informant on her mother's death certificate; she may have been visiting prior to her mother's death, or may have traveled to Memphis immediately after hearing the news.
In late 1939, Gertrude's niece
Louise
(her sister Margaret's daughter) came to stay with her and Walter (called "Bill") at their residence, 4710 No. Wolcott Av., Chicago, Illinois. Louise's husband and former stepfather
John Joseph Berberick
had recently passed away. They had been living in Cedarville, New York. Margaret had passed away in 1929.
In the
1940 United States census
, Gertrude and Walter were listed as married. However, they may not have actually been married at that time. According to my father's baby book, for his first birthday in 1942, he received a birthday gift from Grandma Gatlin and Bill Davis. For his second birthday in 1943, he received a gift from Grandma Davis. There is a section about trips in my father's baby book, and it says that on August 1, 1943 he took a train to Utica, New York to see his Grandma Davis. Gertrude and Bill moved to New York sometime in the early 1940s. They must have been in New York by 1943.They lived on Orangeport Road in Brewerton, Onondaga County, New York. I am not sure if their home on Orangeport Road was their only New York residence. or just their last one. My father remembers that they had wild strawberries in their backyard. Gertrude was a member of the
Brewerton Methodist Church
and its Women's Society of Christian Service (now
United Methodist Women
).
There were many "black sheep" on my grandfather's father's side of the family, but my grandfather was a good man. He must have taken after his mother's side of the family. Gertrude must have been a good mother, and raised him well. Looking at the photo below, I definitely see a resemblance between my grandfather and his mother. As a cat lover, I am glad to see that Gertrude appears to have liked cats.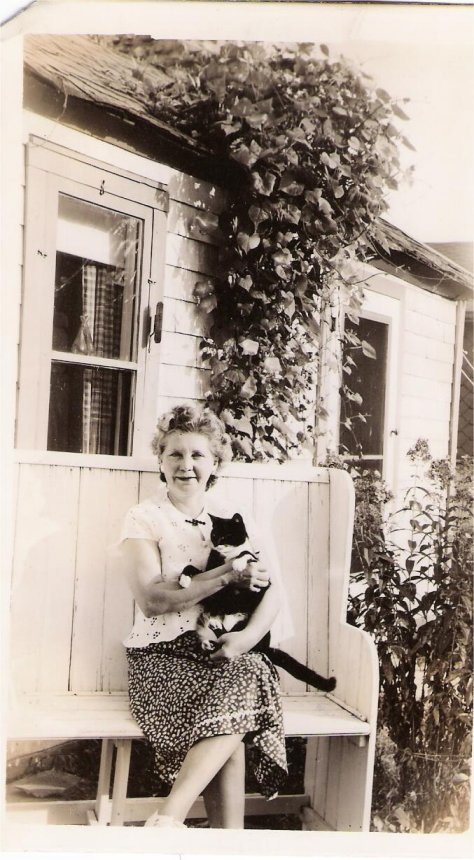 Gertrude died in St. Joseph's Hospital in Syracuse, New York on 9 July 1959, as a result of ovarian cancer. She was buried in Cedarville Cemetery in Cedarville, New York, near her sister Margaret.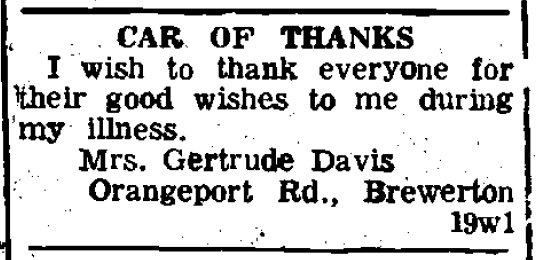 Mexico Independent, 17 May 1959, page 13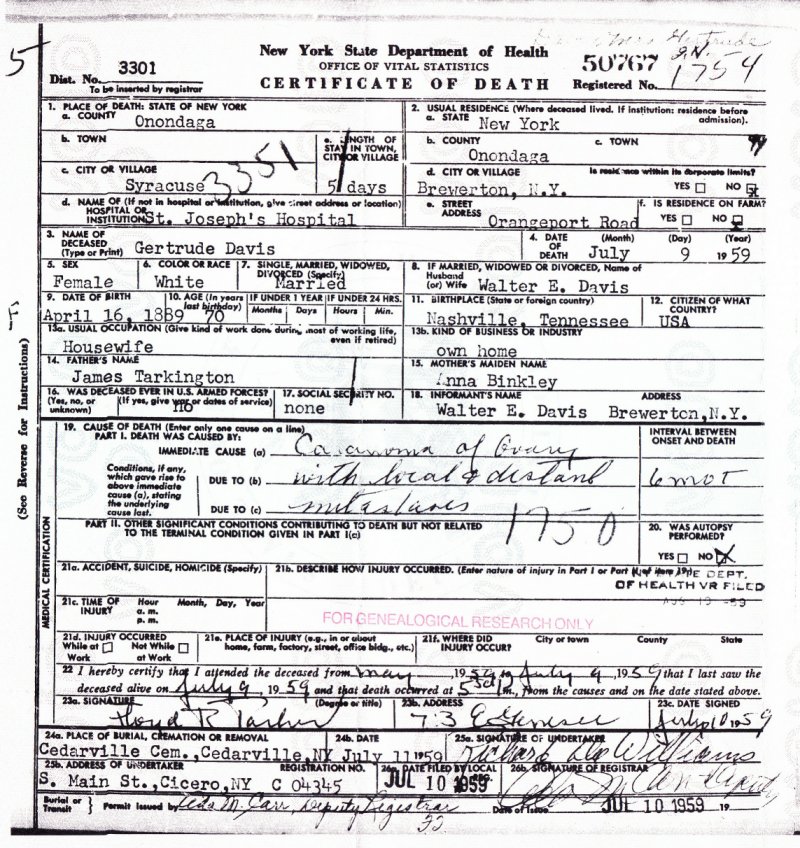 Certificate of death, Gertrude Davis. 9 July 1959. New York State Department of Health, Office of Vital Statistics.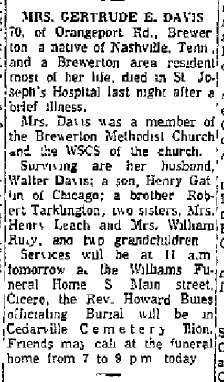 Syracuse Post Standard, 10 July 1959, page 9.