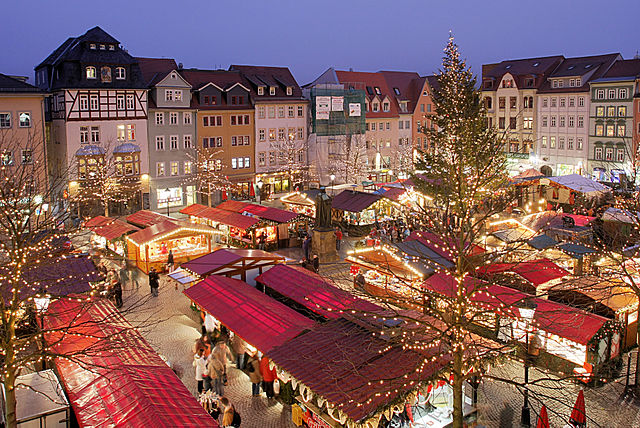 Weihnachtsmarkt (Christmas market) in Jena, Thuringia, Germany. 21 December 2007. Photo by Rene Schwietzke [CC BY-SA 2.0 (http://creativecommons.org/licenses/by-sa/2.0)]. Available at Flickr and Wikimedia Commons.
Christmas Day is known as
Weihnachten
in Germany and other German-speaking countries such as Austria and Switzerland. Many of our traditional Christmas customs originated in Germany and Austria.
The Christmas tree (
Tannenbaum
) originated in Germany in the Middle Ages. The first Christmas trees were decorated with fruits and nuts.
After the Protestant Reformation,
Martin Luther
established the tradition of the
Christkind
(Christ child) as the bringer of Christmas gifts, to discourage the giving of gifts at St. Nicholas' Day (December 6). Christmas Eve became the day for gift-giving. German children receive gifts from either the
Christkind
or the
Weihnachtsmann
(Christmas man, the German Santa Claus), depending on the region in which they live.
Christmas markets originated in Germany and Austria during the Middle Ages. These street markets would be open during the four weeks of Advent. Attractions at the markets include a Nativity scene and nutcrackers. Christmas ornaments, decorations, toys, handmade items, and food are sold.
The Christmas carol "Silent Night" originated in Austria. "Stille Nacht" was written in 1818.
Joseph Mohr
, a Catholic priest, had written a poem two years earlier, and he wanted it set to music so he could use it as a carol at Midnight Mass. His friend
Franz Xaver Gruber
wrote the music on 24 December 1818, in just a few hours.
References
Christmas customs and recipes
Christmas market
Christmas Traditions in Germany, Austria, Switzerland
Christkind
German Christmas traditions
The German Christmas Tree
Stille Nacht - Silent Night
A Symbol for Nuremberg: The Origin of the Christkind
Weihnachten