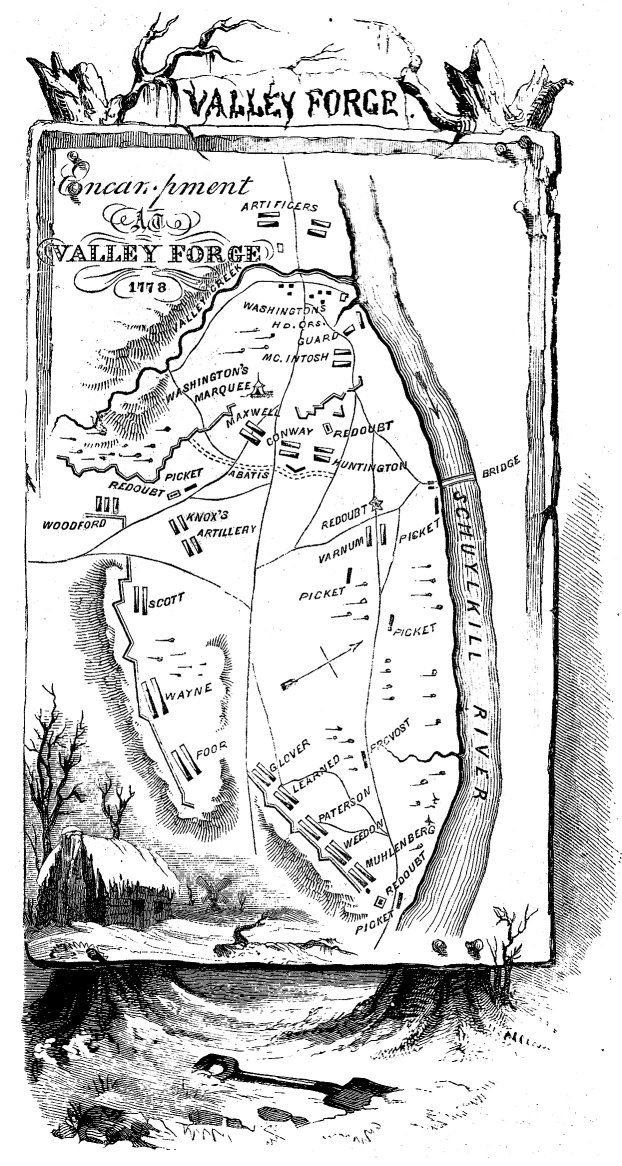 The Encampment at Valley Forge, PA. Lossing, Benson John. Field Book of the Revolution. Vol. 2. New York: Harper Brothers, 1855. Page 128. Available from Wikipedia.
On 19 December 1777, George Washington and his Continental Army entered their winter quarters at Valley Forge, Pennsylvania. 12,000 men marched in from their encampment at White Marsh (now
Fort Washington State Park
). They began constructing huts; the first one was completed in three days.
By the end of the winter, more than 2,500 soldiers had died from diseases such as dysentery, influenza, pneumonia, typhoid fever, typhus, and smallpox.
My 5th-great-grandfather Stephen Mayo was at Valley Forge. He was in
Weedon's Brigade
,
14th Virginia Regiment
.The
muster roll
shows that he was sick in the winter. Fortunately, he survived. 163 men from his brigade died at Valley Forge.
Every December 19 at
Valley Forge National Historical Park
, there is a march in to commemorate the arrival of the Continental Army.
References
Annual March In of the Continental Army Commemoration
Continental Army enters winter camp at Valley Forge
The Encampment
History & Culture - Valley Forge National Historical Park
Valley Forge
Valley Forge Legacy: The Muster Roll Project
Washington leads troops into winter quarters at Valley Forge