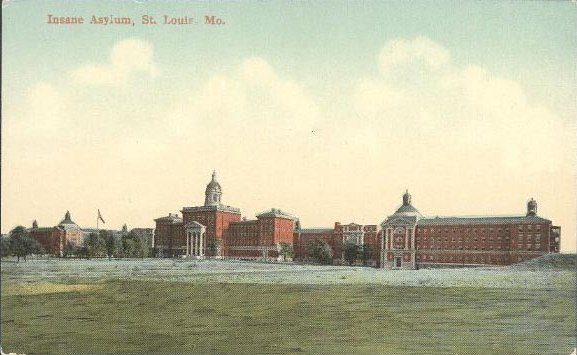 The St. Louis County Lunatic Asylum was designed by
William Rumbold
. Construction began in August 1864, and the facility, located at 5400 Arsenal Street, opened on 23 August 1869. Its capacity at that time was 250 patients. When the City of St. Louis separated from St. Louis County in 1876, the name of the institution was changed to St. Louis City Insane Asylum. In 1910, its name was changed to City Sanitarium. Additional wings were added in 1912.
My great-great-grandfather
John Gersbacher
died in 1914. After his death, his widow Theresa (Vollmer) Gersbacher entered the City Sanitarium. At the time that she entered, clinical diagnoses were not given to patients. Some people ended up at the sanitarium just because they were poor. Treatments included straitjackets, placing people into vats of ice cold water, and placing people into small cubicles with straw floors.
Theresa was enumerated at the City Sanitarium in the
1920 United States census
and in the
1930 United States census
. She died there on 5 September 1939. According to her death certificate, she had been in the sanitarium for 24 years, 7 months, and 22 days.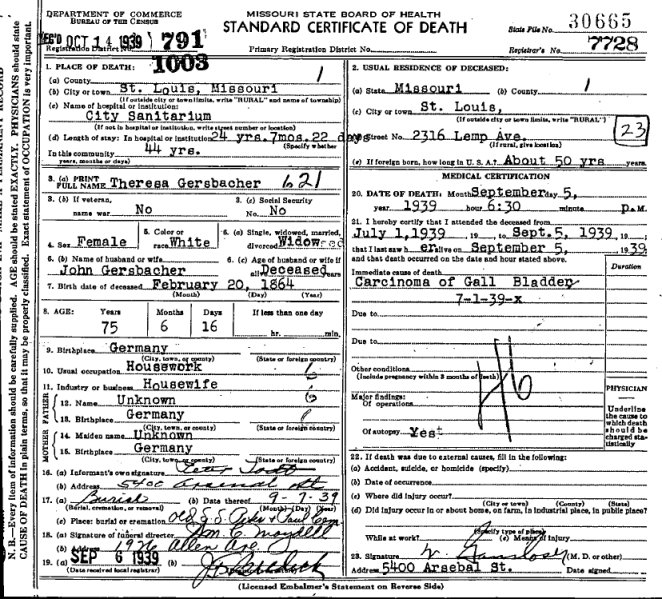 Theresa Gersbacher death certificate. 5 September 1939. Missouri State Board of Health.
In 1948, the City Sanitarium became a state institution, and its name was changed to the St. Louis State Hospital. In October 1997, the hospital moved to 5300 Arsenal St. and changed its name to St. Louis Psychiatric Rehabilitation Center.
References
Built St. Louis: Recalled to Life: St. Louis State Hospital
The Hill: Institutions
Hoosiers and Scrubby Dutch: St. Louis's South Side
St. Louis Psychiatric Rehabilitation Center