My great-great-grandfather John Gersbacher was born Johann Gerspacher on 2 September 1843 in Görwihl, Waldshut, Baden, Germany. He was the son of Fridolin Gerspacher and Maria Bär. His parents, first cousins, were the grandchildren of Joseph Bähr and Magdelena Huber; Fridolin was the son of Johann Gerspacher and Magdalena Bär, and Maria was the daughter of Jacob Bär and Magdalena Kaiser.
On 16 February 1871, Johann married
Kunigunde Dreier
, and they lived in Niederwihl (now part of Görwihl). Their son Friedrich (later known as Fridolin) was born three months later, on 15 May 1871. Another son, Hermann, was born on 30 May 1873, and died on 24 August 1873. The next child, my great-grandmother Paulina, was born on 13 August 1876. Another son named Hermann was born on 26 September 1877 and died on 18 December 1878. On 8 May 1879, son Josef (later known as Joseph John) was born. Daughter Augusta was born on 29 January 1881, and son Edward was born on 26 November 1882.
Johann left Germany for the United States when Kunigunde was pregnant with Edward, and changed his name to John Gersbacher. Kunigunde and the children arrived in the United States to join him in St. Louis, Missouri on 26 July 1883, and son Edward died in St. Louis on 10 August 1883. Three more children were born in the United States: Anna Maria was born on 25 August 1886, Emma Louisa was born on 15 May 1888 and 1 August 1888, and Rosa Louisa was born on 17 December 1890 and died on 13 July 1891. John's oldest son Fridolin died on 30 May 1892, and his wife Kunigunde died on 6 January 1893.
According to a letter written by my grandmother
Margaret (Schneider) Boe
(the daughter of Paulina Gersbacher), John Gersbacher was "a mean drunken carpenter who ruled his wife and kids with an iron hand" and that he was called "a street angel and a house devil!" After Kunigunde died, John abandoned his family. When their mother died, Paulina was 16, Joseph John was 13, Augusta was almost 12, and Anna was 6.
On 26 March 1900 in Belleville, St. Clair County, Illinois, John married Theresa Vollmer. Both were residents of St. Louis. When he filled out the marriage return, John answered many questions untruthfully. He said that his father was John and that his mother was Kunigunde Dreher (his first wife!) Since he already owned the family burial plot, maybe he wanted to claim that the woman buried there was his mother, not his wife. He claimed that the marriage would be his first. He said that he had been born in St. Louis (he was not even a United States citizen at that time). He also took 7 years off his age. Theresa Vollmer probably did not know about his children at that time, and she may have thought that she was going to gain United States citizenship by marrying him. John became a citizen later that year, on 8 October 1900.
John died in St. Louis on 8 February 1914 and was buried on 10 February 1914 at
Sts. Peter and Paul Catholic Cemetery in St. Louis.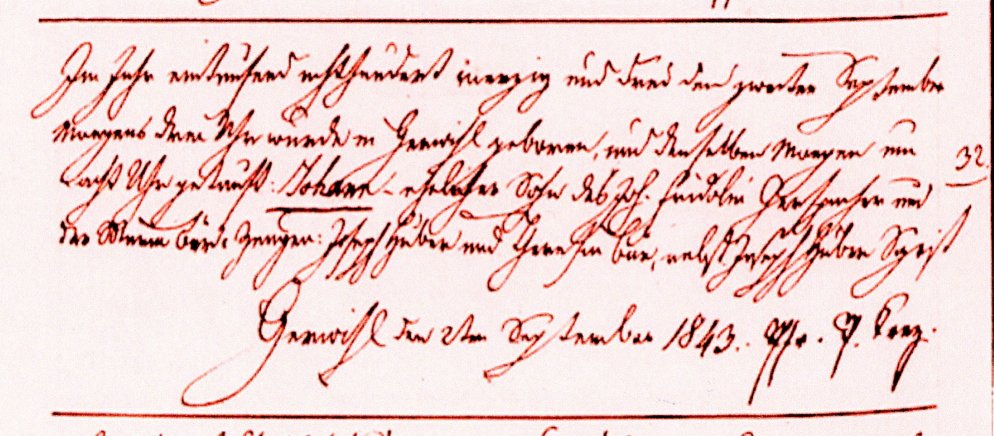 Johann Gerspacher baptismal record, 2 September 1843. Katholische Kirche Görwihl. Kirchenbuch, 1648-1900.

Faller, Helmut. Familiengeschichte der Gemeinde Görwihl. Bad Säckingen : H. Faller, 2000. Johann is listed as the second child of Fridolin Gerspacher and Maria Bär, and the date of his marriage is given.

Faller, Helmut. Familiengeschichte der Gemeinde Görwihl. Bad Säckingen : H. Faller, 2000. Kunigunde and the children actually left in 1883.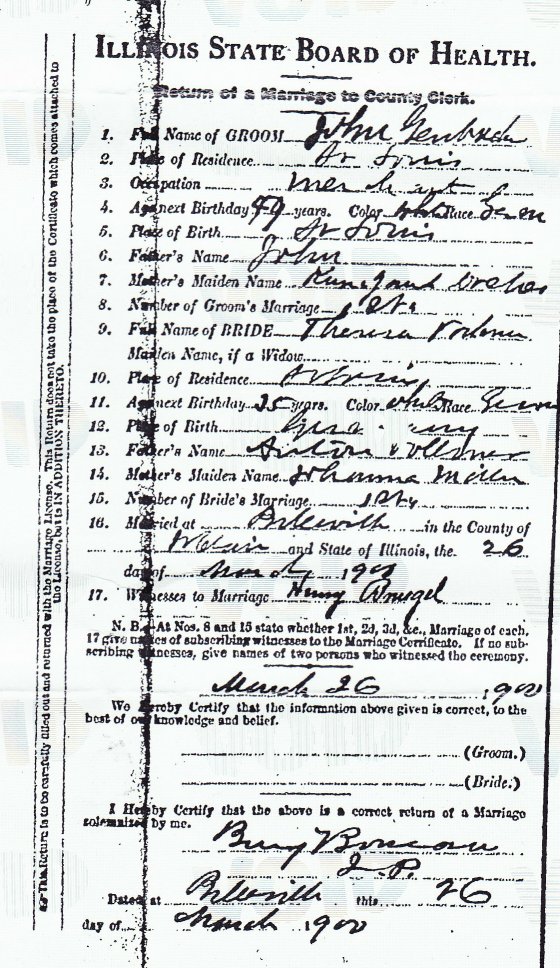 Illinois State Board of Health. Marriage return, John Gersbacher and Theresa Vollmer, 26 March 1900. Note the numerous incorrect answers given by John Gersbacher.

John Gersbacher naturalization record, 8 October 1900. St. Louis City Court of Criminal Corrections. Second, Soldiers and Minors Papers. Naturalization Cards. St. Louis City. Reel no. C 25793, vol. 17, page 135. Apparently he was able to convince the court that he had conducted himself as a man of good moral character!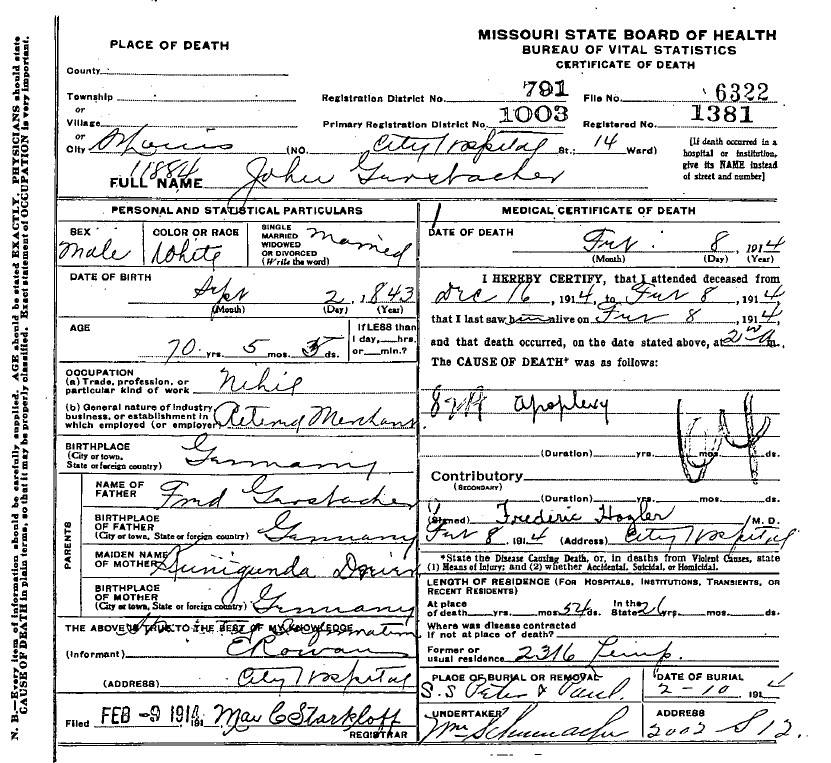 John Gersbacher death certificate, 8 February 1914. Missouri State Board of Health. Bureau of Vital Statistics. Note that the maiden name of his mother is incorrect; his first wife's name was given!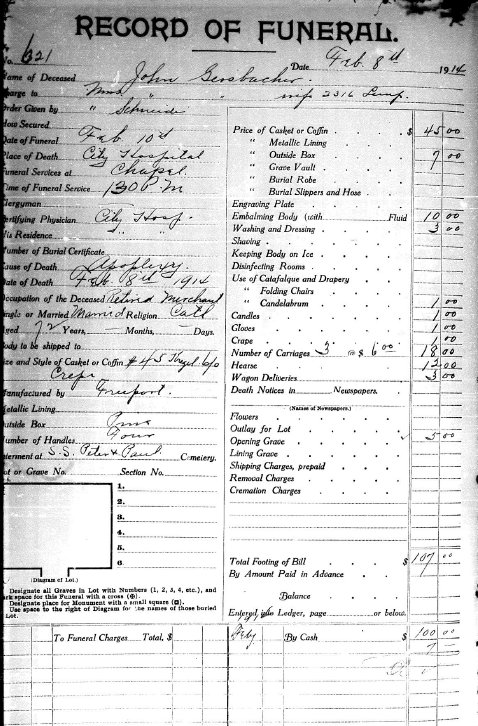 Record of funeral, John Gersbacher. Wm. Schuhmacher Funeral Home, St. Louis, Missouri. St. Louis County Library, Special Collections Department. Funeral Home Records, microfilm reel 17.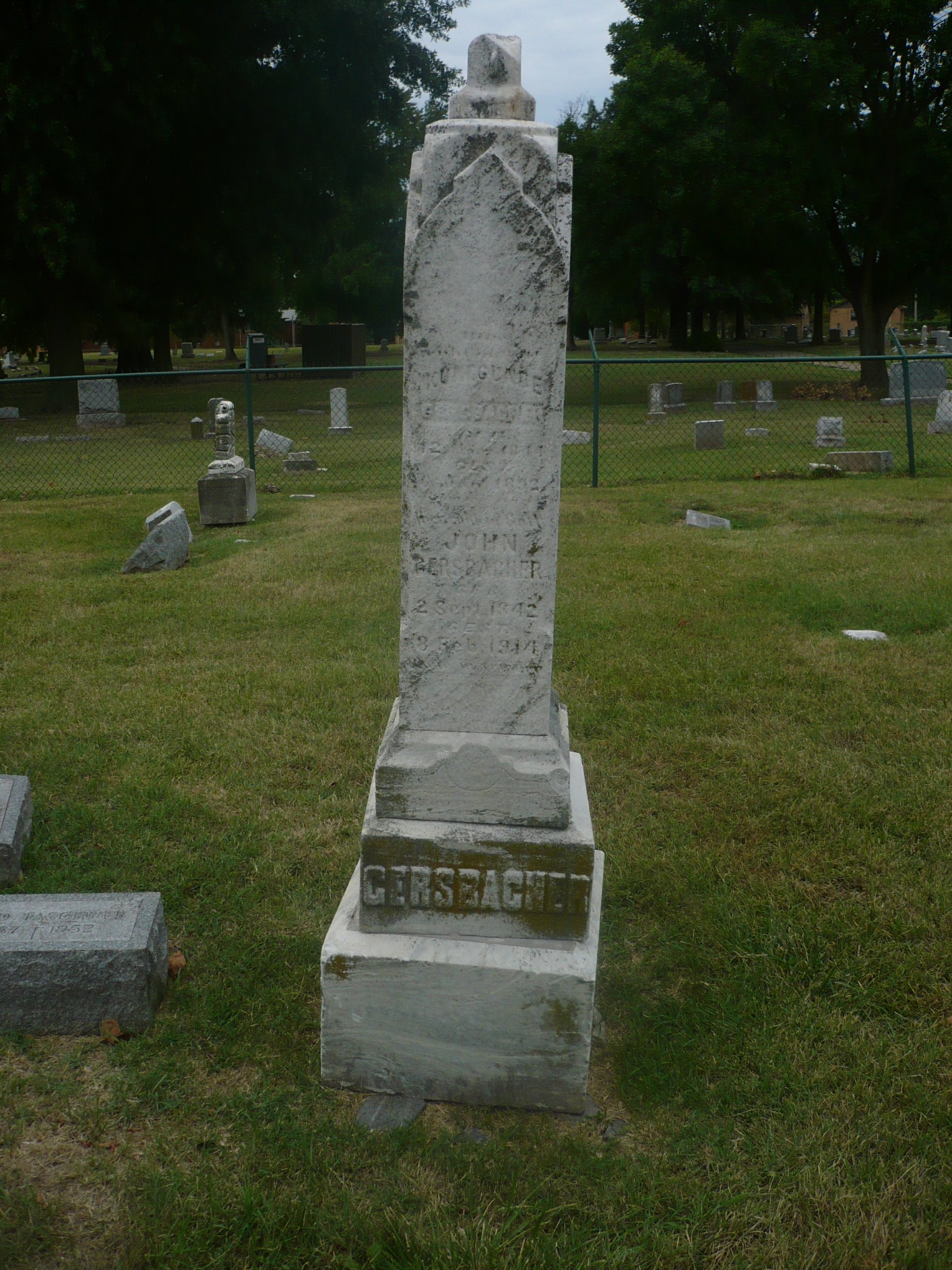 Gersbacher tombstone, Sts. Peter and Paul Catholic Cemetery, St. Louis, Missouri. The stone is inscribed with the names and dates of John, Kunigunde, and their oldest son Fred. Fred's death date and Kunigunde's death date are off by a year, so the stone was probably erected after John Gersbacher's death, most likely by John and Paulina (Gersbacher) Schneider.