My great-great-grandfather Andreas Troedsson was born on 24 February 1851 in Grevie, Skåne, Sweden, and was baptized on 2 March 1851. He was the son of Troed Andersson and Christina Jacobsdotter. The EmiHamn database records his date of emigration as 11 March 1872; he left from Copenhagen, Denmark, and his destination was Chicago, Illinois. He was the first of his
siblings
to come to America; two brothers and two sisters followed him. After he arrived in America, he changed his name to Andrew T. Anderson. His middle initial was from his original patronymic, Troedsson, and his new surname was probably chosen because it was a modified version of his father's patronymic. His brothers also adopted the surname Anderson and used the middle initial T.
He married Marthe Elisabeth Erickson, an immigrant from
Avaldsnes, Rogaland, Norway,
in Chicago on 31 March 1877. They had seven children: Anna Matilda (born 13 April 1878), Emma Christina (born 2 June 1880, died 9 June 1881), my great-grandfather Edward Theodore (born 10 August 1882), Albert Bernard (born 28 March 1885), Esther Elizabeth (born 1 September 1889),
Reuben Alexander
(born 19 December 1892), and Ruth Elvira (born 18 June 1896).
He was a wood turner. He made a set of chairs and gave one to each of his children (except baby Emma). My father has the
chair
that belonged to Edward Theodore. By 1910, he was a clerk for the Cook County Board of Review.
In 1912, he returned to Sweden to visit his sister Carolina. He also saw his brother Johannes while he was there. He returned to the United States on
28 July 1912
. He arrived at Ellis Island on the Caronia, which had sailed from Liverpool, England.
He died in Chicago on 24 January 1916 and was buried in
Oak Hill Cemetery
on 27 January 1916.

Birth/christening record for Andreas, 1851. Grevie CI (1837-1861), image 79. (AID: v99277.b79, NAD: SE/LLA/13113)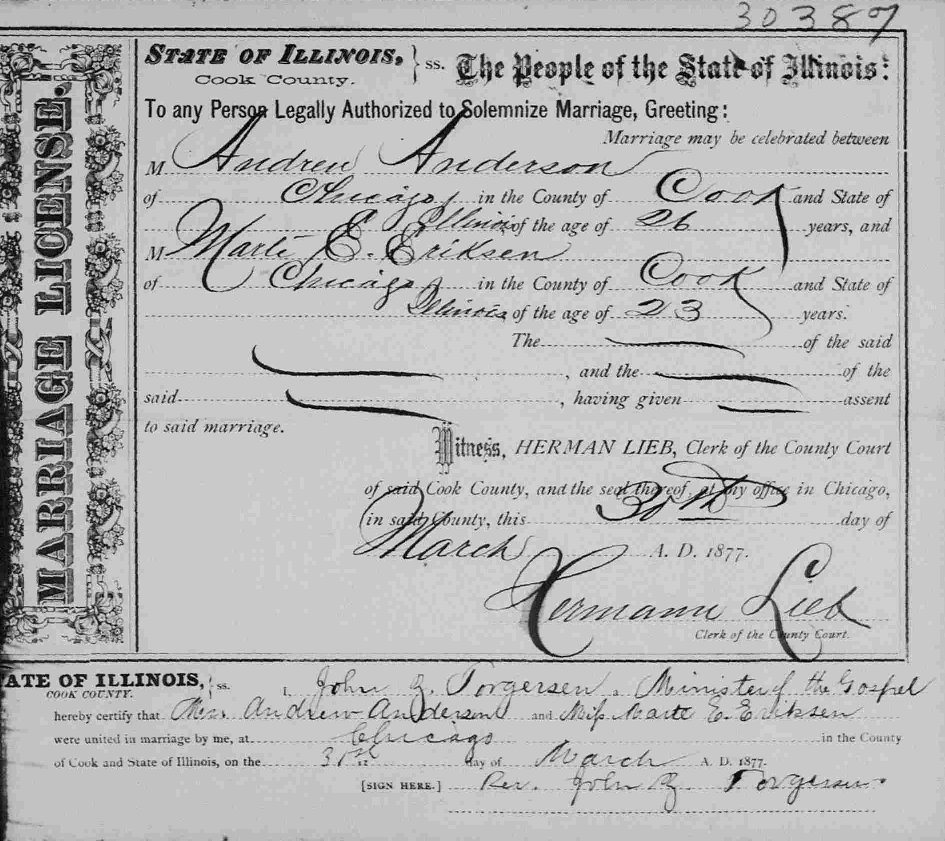 Cook County, Illinois Marriage license and return, Andrew Anderson and Marte E. Eriksen, 1877.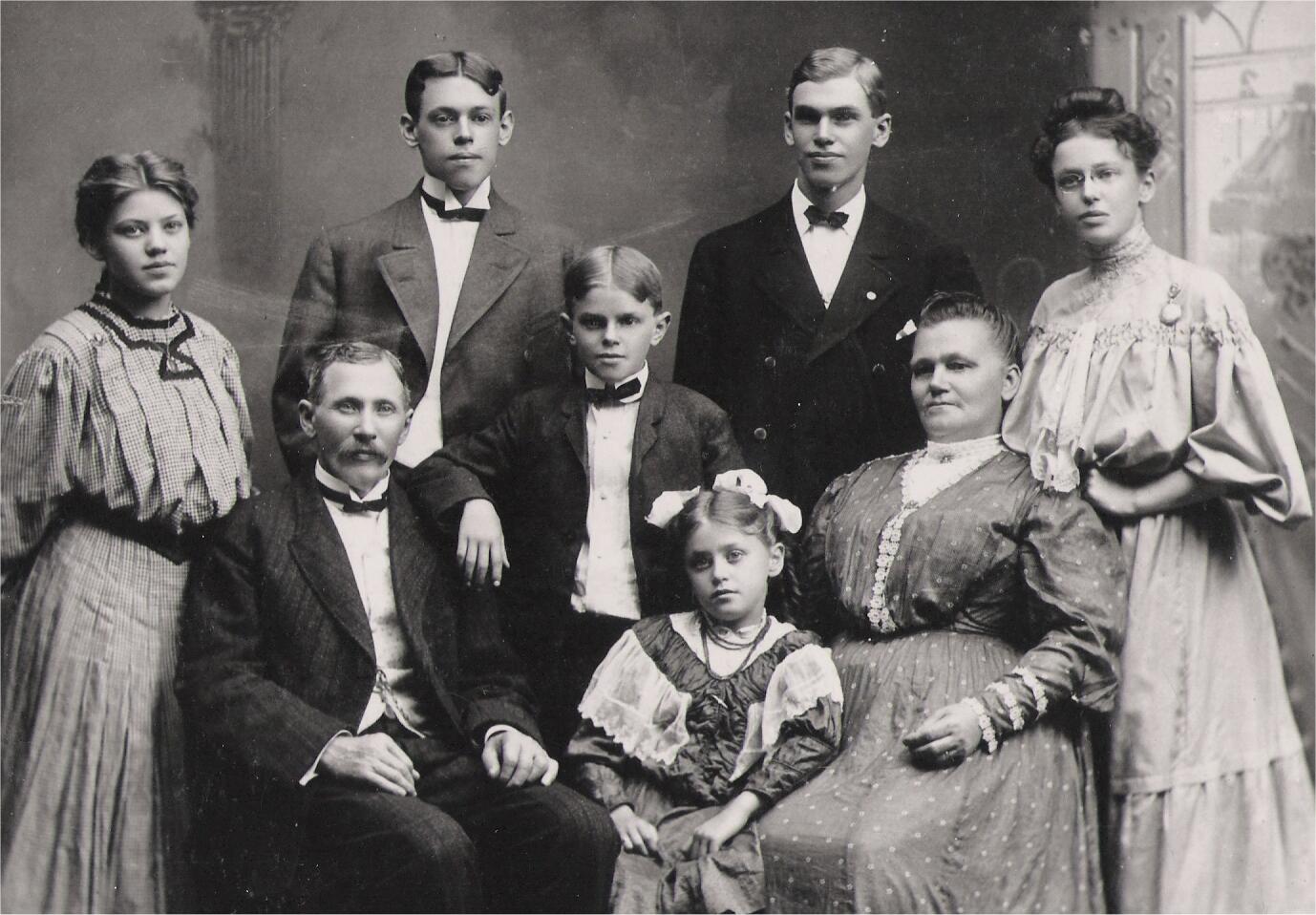 Anderson family ca. 1906: Esther, Andrew, Albert, Reuben, Ruth, Edward, Marthe, Anna.

1910 United States census, Chicago, Cook, Illinois, Ward 31, population schedule, enumeration district 1351, page 15B.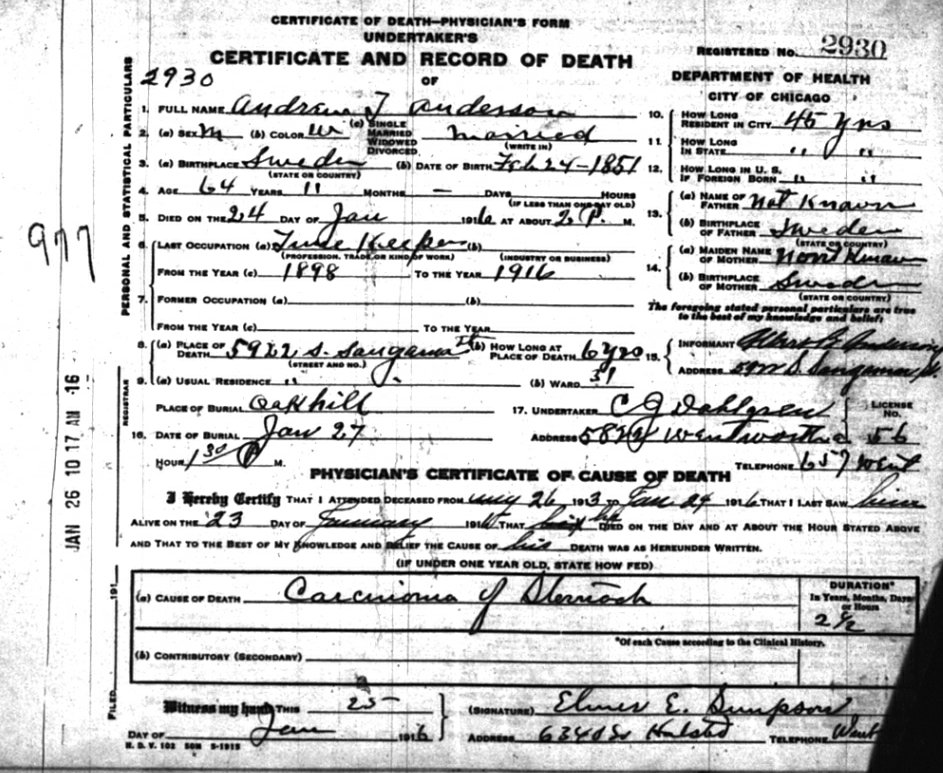 City of Chicago, Department of Health. Certificate of death no. 2930, Andrew T. Anderson, 24 January 1916.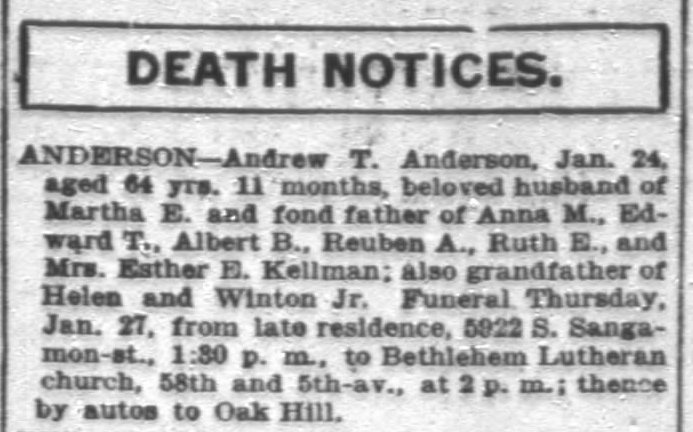 Chicago Daily Tribune, 26 January 1916