My great-great-grandmother Sarah Claire "Sadie" Dyer's half-sister Nellie Cox was involved in the Ben Dowell murder trial along with their brother
Tom Cox
.
Nellie was born in Nashville, Tennessee in October 1877. She was the daughter of my 3rd-great-grandmother Mary (widow of
Michael Dyer
) and John Cox. Nellie
married Owen McDonough
on 6 March 1899 in Davidson County, Tennessee.
On 6 December 1903, Nellie was arrested by patrolman Ben F. Dowell for disorderly conduct and interfering with an officer. Tom Cox shot and killed Ben Dowell, and Nellie and Owen McDonough were charged as accessories to the murder. Tom was found guilty of murder. A mistrial was entered for Owen and Nellie.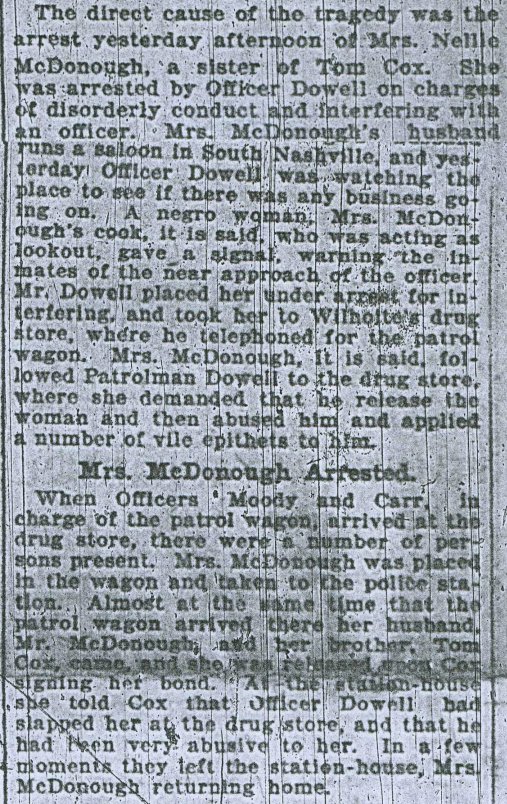 "Small Chance for Recovery," Nashville Banner, 7 December 1903, page 2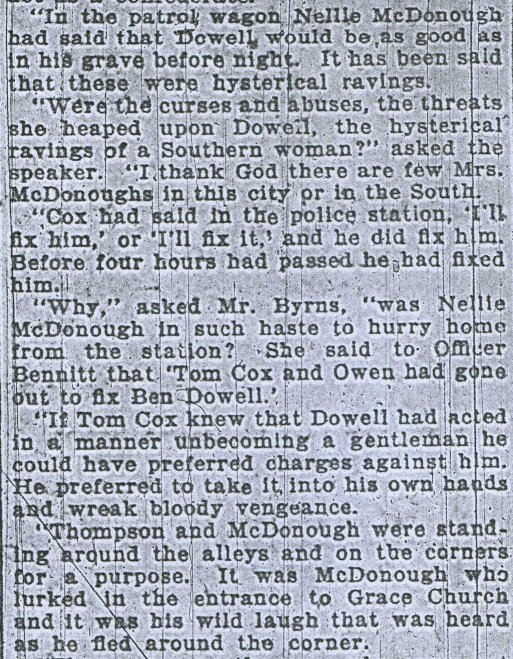 "Eloquent Arguments," Nashville Banner, 22 February 1904, page 2
The 1906 Nashville city directory states that Owen McDonough had moved to Birmingham, Alabama. I have not been able to locate the couple since the time of the trial. Nellie apparently remarried at some point, because the 21 January 1945 death notice for my great-great-grandmother Sarah C. (Dyer) Gatlin in the
Chicago Tribune
states that she was "sister of Mrs. E. Goolsby." All of the other Dyer and Cox siblings had passed away by that time, so Mrs. E. Goolsby must be Nellie. The initial E could be her husband's, or could be hers; Nellie could be a nickname for Ellen or Eleanor. So far I have not been able to find out anything more about Nellie's life after the trial. In addition to wanting to know more about her, I would like to see if Nellie's death certificate has more information about her mother, such as her maiden name or information about her origins in Ireland.