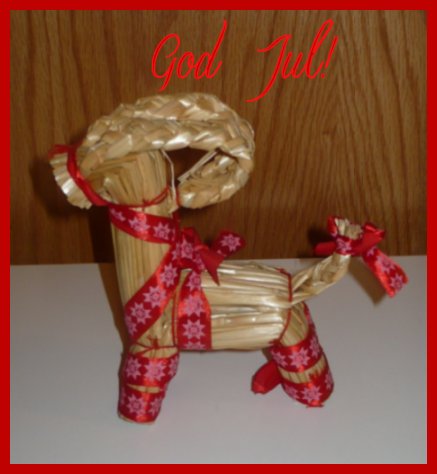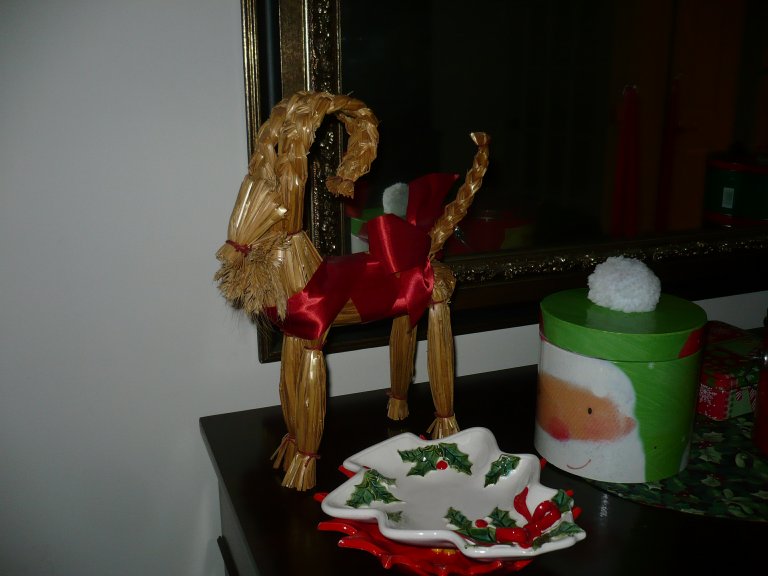 In the Scandinavian countries, Christmas is called
Jul
. The main celebration and the exchange of gifts take place on Christmas Eve. When I was growing up, I always spent Christmas Eve with my father's side of the family, and I spent Christmas Day with my mother's side of the family. My
paternal grandmother
was 3/4 Swedish and 1/4 Norwegian, and she maintained Swedish traditions.
The Yule goat (
Julbock
), a straw goat, is a traditional Christmas symbol. In the 19th century, it was considered the bearer of Christmas gifts. It is now typically a Christmas decoration. In Gävle, Sweden, a large
Julbock
(the
Gävle Goat
) is erected every year, and is often burned by arsonists before Christmas. Straw Christmas ornaments are also traditional.
Small gnomes called
tomte
in Sweden and
nisse
in Denmark and Norway are also associated with Christmas. They were thought to reside on farms. They demanded porridge on Christmas Eve; if they did not receive it, they would leave or make mischief. In the 1840s, the
Julnisse
became the bearer of Christmas presents, and this tradition spread to Norway and Sweden.
Collectible Christmas plates are produced annually in Denmark. The first collectible Christmas plate was produced by Bing & Grøndahl in 1895.
Royal Copenhagen
began producing Christmas plates in 1908. My paternal grandparents had a collection of Royal Copenhagen Christmas plates. My parents also have Royal Copenhagen Christmas plates.
In Sweden, a
julbord
(Christmas table) includes bread, butter, cheese, herring, ham, sausages, meatballs, potatoes, and casseroles. It is eaten in three courses. Pork ribs (
ribbe
) are popular in Norway. Rice pudding is also a tratidional Christmas food. Lutefisk (codfish preserved in lye) is traditional in Norway and Sweden. More lutefisk is now eaten in the United States (mostly by Scandinavian-Americans) than in Scandinavia.
References
Christmas in Scandinavia
Danish Christmas plates
Jul (Denmark)
Jul (Norway)
Jul (Sweden)
Legend of the Nisse and Tomte
Lutefisk
Norwegian Christmas traditions
Scandinavian Traditions
Scandinavians' Strange Holiday Lutefisk Tradition
Smörgåsbord
Tomte
Yule Goat