The Battle of Nashville took place on December 15-16, 1864. It was the last major battle of the Civil War. This year is the 150th anniversary of the battle.
After the
Battle of Franklin
, Lieutenant General
John Bell Hood
and his Confederate troops pursued Major General
George Henry Thomas
' Union troops to Nashville. They arrived on December 2. Thomas' troops attacked the Confederates on both the left and the right flanks. The attack on the right was intended to be a diversion. Troops from General
James B. Steedman
's Provisional Division advanced on the right flank at 8:00 AM on December 15. However, the diversion did not work; Hood realized that the main attack was coming from the left, and he moved some of Lieutenant General
Stephen D. Lee
's troops to the left flank.
At 10:00 AM the attack on the left flank began. Brigadier General
James H. Wilson
's cavalry corps and Major General
Andrew Jackson Smith
's "Detachment of the Army of the Tennessee" headed west and then south. Brigadier General
Edward Hatch
's cavalry brigade headed to the
Belle Meade plantation
, where they burned Brigadier General
James R. Chalmers
' supply wagons. Brigadier General
Thomas J. Wood
's IV Corps advanced on the Confederate line. The five Confederate redoubts on the left were attacked. The last one to fall was
Confederate Redoubt No. 1
.
On December 16, Major General Thomas once again utilized the strategy of creating a diversion. Two brigades from General Steedman's provisional division and two brigades from
Samuel Beatty
's division of Brigadier General Wood's IV Corps attacked Peach Orchard Hill. Hood sent reinforcements to Peach Hill; the Confederate line of defense at Compton's Hill (now Shy's Hill) became thinner.
At 3:30 PM, Brigadier General
John McArthur
told Smith and Thomas that unless he was given orders not to within the next five minutes, he would attack Compton's Hill and the Confederate line to its east. Shortly afterward, McArthur's three brigades began their attack. They captured 1,533 men, 85 officers (including Brigadier General
Thomas Benton Smith
), and eight cannons. Colonel
William M. Shy
was killed.
The
Battle of Nashville Preservation Society's events
in remembrance of the sesquicentennial of the Battle of Nashville began on Saturday, 13 December 2014, and continue on Monday, 15 December 2014 and Tuesday, 16 December 2014.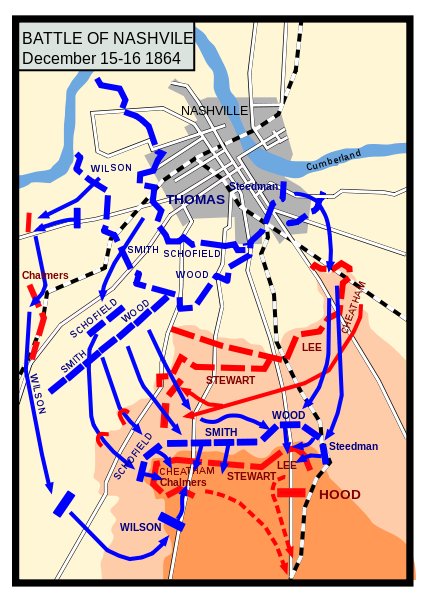 Map of the battle of Nashville, 1864. 18 March 2007. By Andrei nacu [GFDL (http://www.gnu.org/copyleft/fdl.html) or CC-BY-SA-3.0 (http://creativecommons.org/licenses/by-sa/3.0/)]. Available from Wikimedia Commons.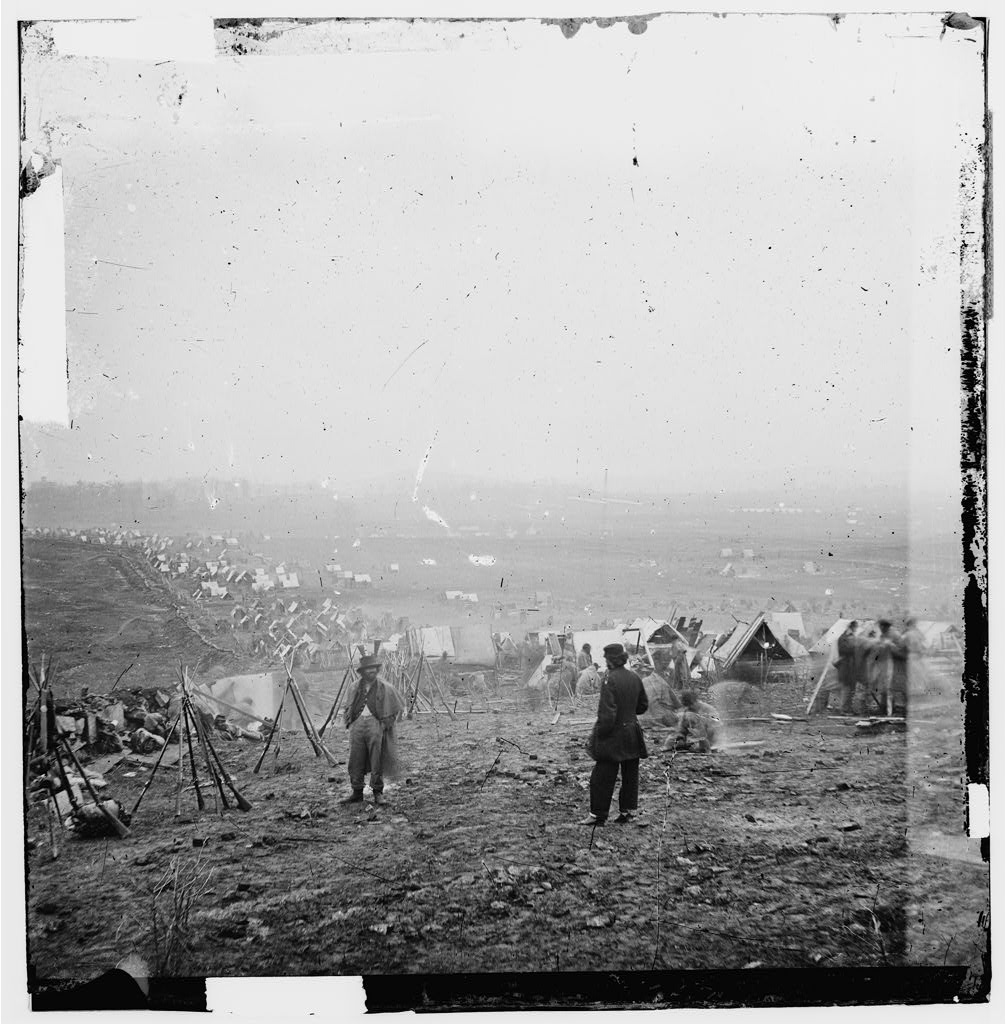 Nashville, Tenn. Federal outer line. Photo by Jacob F. Coonley, 16 December 1864. Library of Congress Prints and Photographs Division, Washington, D.C. Available from http://loc.gov/pictures/resource/cwpb.02087/.
References
Battle of Nashville
Battle of Nashville Preservation Society, Inc
.
150th Anniversary (1864–2014) This Month in the Civil War: Battle of Nashville
Zimmerman, Mark.
Guide to Civil War Nashville
. Nashville, TN: Battle of Nashville Preservation Society, 2004.