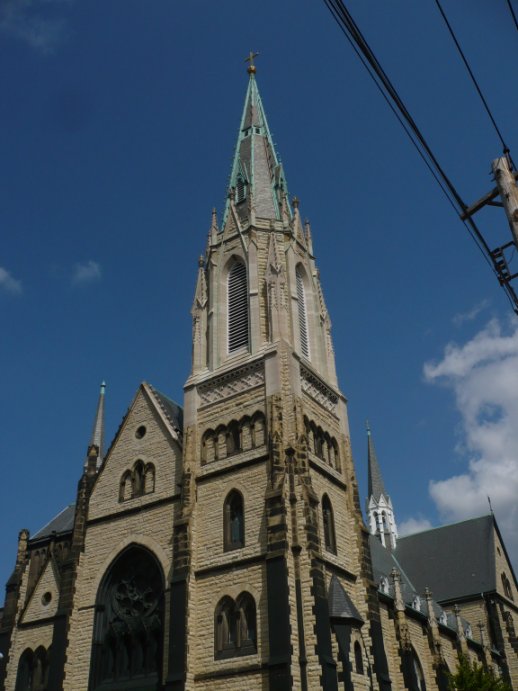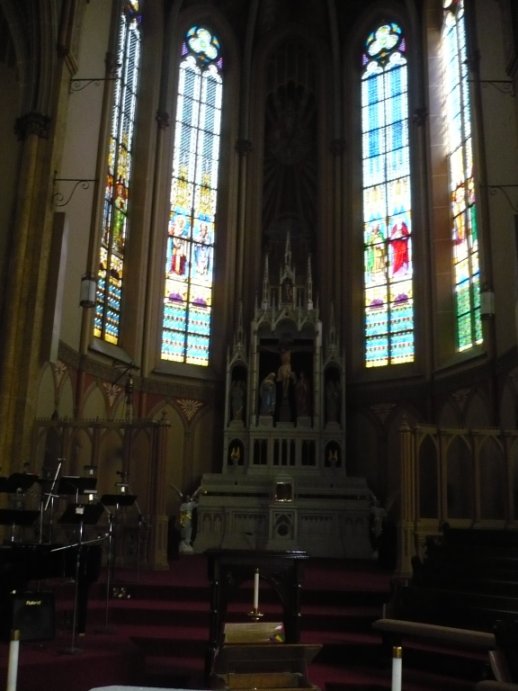 Saints Peter and Paul Catholic Church
is located at 1919 South 7th Street, St. Louis, Missouri, in the
Soulard
neighborhood.
Saints Peter and Paul Parish was founded in June 1849 by Father Simon Sigrist. It was created to serve the Germans of the first ward of St. Louis. The first church was made of wood and was located on the site of the sanctuary of the current church, but it faced Allen Avenue. Construction began on the second church on 1 October 1851. This church, made of brick, faced 8th Street. It was dedicated on 23 October 1853.
In the early 1870s, Father Franz Goller decided to build a new church with a German Gothic design. Franz Georg Himpler designed the new church, and the cornerstone was laid on 12 June 1872. The church was dedicated on 12 December 1875. The stained glass windows in the sanctuary and above the side altars were manufactured in Innsbruck, Austria. The church's tower was built in 1890, and in 1891, five bells were installed. The interior of the church was completed in 1895, when oil-painted Stations of the Cross from Beuron, Germany were installed.
My Schneider and Gersbacher ancestors attended Saints Peter and Paul Catholic Church. Family baptisms, marriages, and funerals took place there. My maternal grandmother
Margaret Ann Schneider
was baptized there, and she married her first husband Herbert William Foerstel there.
My cousin and I visited Saints Peter and Paul in August 2012. We were glad that we were able to see the church that was so much a part of our family history.
References
Sanctuary in Soulard: The First 150 Years of Saints Peter and Paul Parish
. St. Louis, MO: Saints Peter and Paul Church, 1999.
Sts Peter and Paul Catholic Church: Our History