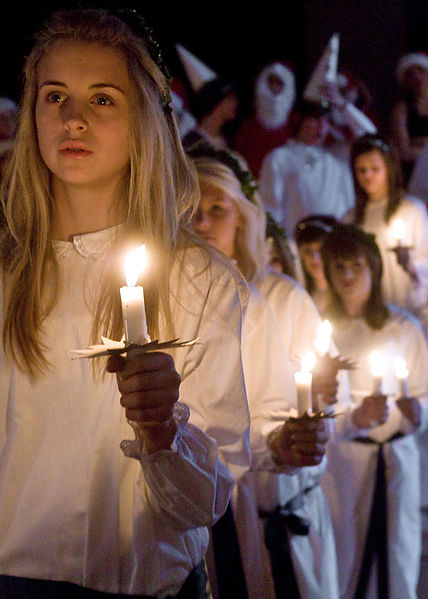 Saint Lucia Day procession, Sweden, 13 December 2007. Photo by Fredrik Magnusson (Lucia) [CC-BY-2.0 http://creativecommons.org/licenses/by/2.0)]. Available from Wikimedia Commons.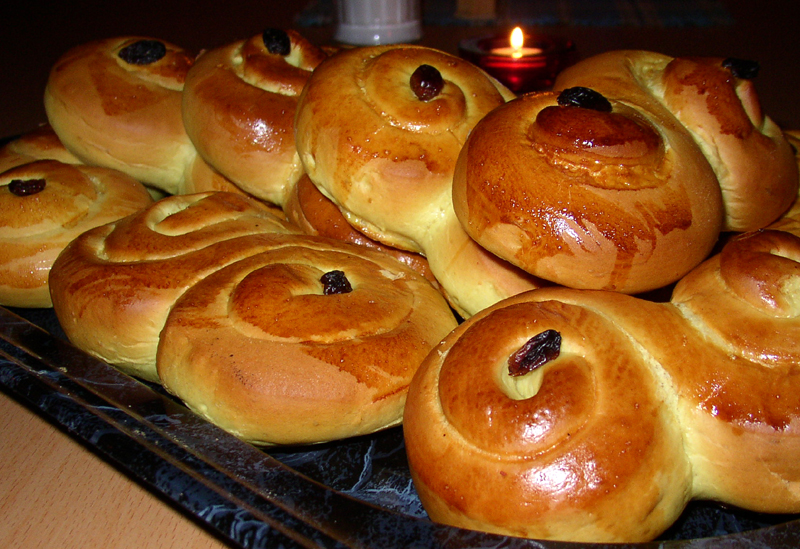 Lussebullar. Photo by Per Ola Wiberg [CC-BY-2.0 (http://creativecommons.org/licenses/by/2.0)]. Available from Wikimedia Commons.
December 13 is Saint Lucia Day. It is a major feast day in the Scandinavian countries. The day has been observed in the Nordic countries since the Middle Ages, and continued after the Protestant Reformation. The modern Saint Lucia Day celebration began about 200 years ago. Until the eighteenth century, the night of Lucia Day was believed to be the longest night of the year, the winter solstice. It would have been the longest night of the year under the
Julian calendar
in the 14th century. Now that the
Gregorian calendar
is in use, it is no longer the longest night of the year.
In Sweden, there is a candlelit procession. In 1927, a newspaper in Stockholm elected an official Lucia for Stockholm, and the tradition of public processions began. An official Lucia is appointed in cities. Schools elect a Lucia, and a national Lucia is elected on television. The girl portraying Lucia wears a white gown with a red sash. She also wears a crown of candles on her head, because Lucia traditionally wears light in her hair. Lucia is accompanied by her maids. Boys also participate in the procession. They may be
"
star boys" (
stjärngossar
) dressed in white robes and a cone-shaped hat decorated with golden stars, gingerbread men, or
tomtenissar
with lanterns.
When

celebrated at home, the oldest daughter dresses as Lucia and serves the family coffee and
saffron buns
(
lussekatter
or
lussebullar
)
,

which are traditionally eaten on this day.
Traditional Lucia carols are sung
; they are about overcoming the darkness with light. You can hear a Lucia song and read the lyrics in Swedish and English at Mama Lisa's World.
In Finland, Saint Lucia Day has traditionally been observed by Swedish-speaking Finns. Lucias are elected in Swedish-speaking areas. The Finnish-speaking population has begun to participate in the celebrations as well. Schools and day care centers may have processions. The national Lucia of Finland is crowned in Helsinki Cathedral.
In Norway, the night of December 13, Lussinatten, was considered the longest night of the year. No work was to be done on this night, because the enchantress Lussi punished anyone who worked; farms might be vandalized, or people might be abducted. After World War II, Norway adopted the traditional Swedish celebration. It has recently been incorporated into the Advent liturgy of the Church of Norway.
Denmark also adopted the traditional Swedish celebration. Franz Wend, secretary of
Föreningen Norden
, initiated the adoption of the Lucia celebration. On 13 December 1944, the Day of Lucia was celebrated for the first time in Denmark. The Danish celebration is centered on Christianity.
References
Christmas in Sweden
Lucia and Christmas concerts
Lucia in Sweden
Saint Lucia Day - My Little Norway
St. Lucia Day in Scandinavia
St. Lucia's Day light conquers winter's darkness
St Lucy's Day