Louise Margaret Gray was born on 6 December 1906 in Nashville, Tennessee. She was the daughter of Margaret Tarkington, my great-grandmother's sister. According to her Social Security account application, her father was Frank Gray. I suspect that Louise's parents never married. Margaret Tarkington appears in Nashville, Tennessee city directories in 1906 and 1908 under her maiden name. She was not listed in 1907, but she was probably home taking care of her baby daughter, not working as a
telephone operator
. I cannot find Louise in the 1910 United States census. She is not listed in her mother's household.which also included Margaret's mother, brother, and one of her sisters. she may have been living in her mother's home, but not mentioned because she was illegitimate.
In
1920
, Louise and her mother Margaret lived in Chicago, Illinois, where my great-grandmother Gertrude (Tarkington) Gatlin (her sister) was living with her husband and son (my great-grandfather and my
paternal grandfather
). Margaret was using the surname Gray, and was widowed according to the 1920 United States census. However, in Nashville she had been Margaret Tarkington. Margaret worked as a maid, and she and Louise lived with Laurence and Mildred Moore.
By 1924, Louise's mother Margaret had married John Joseph Berberick, a pharmacist's mate in the United States Navy, and the family was living in Buffalo, New York. In
1925
, she was working as a saleslady. On 24 July 1926 in Buffalo, Louise married Fredrick Plaumann. In
1930
, she lived with her husband and his parents and siblings in Buffalo.
Her mother and stepfather had moved to Cedarville, Columbia, Herkimer County, New York. Louise's mother Margaret died there on 12 January 1929. After 1930, Louise moved to Cedarville. Her maternal grandmother Anna Malvina "Annie" (Binkley) Tarkington had lived there part-time with her son-in-law John Joseph Berberick. Louise probably lived with them too. Annie died on 24 January 1935 in Memphis, Tennessee while staying with another of her granddaughters, Nina (Leech) Clark. In 1936, Louise married her stepfather John Joseph Berberick in Boston, Massachusetts. They continued to live in Cedarville until John Joseph Berberick died on 2 October 1939. Two months later, Louise filled out an application for a Social Security account. She was living at 4710 No. Wolcott Av., Chicago, Illinois. That was my great-grandmother's address. Louise had gone to stay with her aunt after the death of her husband.
By the time of the
1940 United States census
, Louise had returned to Cedarville. Her occupation was "new worker." By 1947, Louise had moved to Little Falls, Herkimer County, New York.
Louise married Leonard D. Smith, and they ran the Lakeport Grocrery Store in Lakeport, Madison County, New York. Leonard died on 17 March 1964. Louise's last husband was Maurice O. Fox. She probably met him through Leonard's sister, Elsie (Smith) Fox. She continued to run the grocery store with her new husband. Maurice Fox died on 9 February 1975. Louise died on 28 July 1979 in Utica, New York. She was buried in Cedarville Cemetery, West Winfield, New York, next to her husband Leonard D. Smith.
When I started researching the Tarkington family, I did not know that Margaret Tarkington had a daughter. When I found her husband John Joseph Berberick's obituary, it mentioned that his second wife (and his widow) was Louise Plaumann. I remembered seeing the name Louise Berberick in my father's baby book; she, my great-grandmother, and the man that became my great-grandmother's second husband had given my father a gift for his first birthday. I wondered why my great-grandmother was so close to her sister's widower's second wife, and did more research on her. I came across a newspaper item which mentioned that Louise Plaumann had learned of the death of her great-grandmother, Mrs. Annie Tarkington. WHAT? I searched for more information and found an "in memoriam" notice placed for Margaret Tarkington Berberick by Joe Berberick and Louise Plaumann, husband and daughter. That's when I realized that Margaret had had a daughter, and that Louise had married her stepfather.
Since I could not find Louise in the 1910 United States census, I assumed that she had been born after 1910. I took a to Cedarville Cemetery to see the graves of my great-grandmother and her sister Margaret. While I was there, I noticed that the stone next to the gravestone for my great-grandmother and her second husband was of a similar style. It was on the grave of Louise G. Smith, born 1906, and Leonard D. Smith, born 1907. Although I thought that Louise had probably been born after 1910, I took a picture of the stone anyway. I am so glad that I did! When the 1940 United States census became available, I searched for Louise Berberick and found her. She had been born about 1907.
I searched for the obituary of Leonard D. Smith, and it mentioned that he was survived by his wife Louise. When I obtained the obituary of Laura (Tarkington) Leech, another of my great-grandmother's sisters, it mentioned many surviving family members, including nieces. One was Mrs. Maurice Fox of New York. She was the only person listed that I could not identify, and she was in the same state that Louise had lived in. I wondered if Louise had married again. I found a Louise Fox, born 1906, in the Social Security Death Index. I searched for an obituary for her; when I found one, it stated that she was a native of Nashville, Tennessee. I ordered her Social Security application. On the application, she stated that her parents were Frank Gray and Margaret Tarkington. I had found Louise.

The entry in my father's baby book that made me wonder about the relationship between my great-grandmother and Louise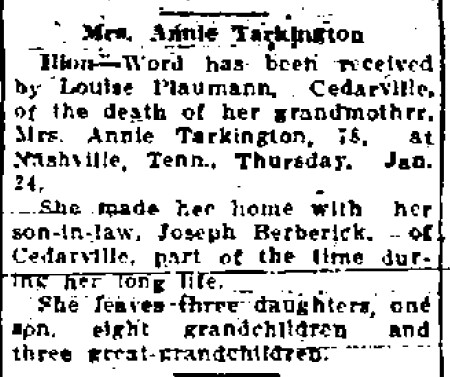 Utica Observer-Dispatch, 27 January 1935, page 7. When I found this item, I learned that Louise was my relative.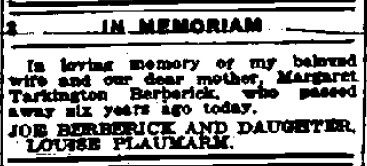 Utica Daily Press, 12 January 1931. When I found this item, I learned that Louise was Margaret's daughter. Margaret had actually passed away two years before the notice was published, not six.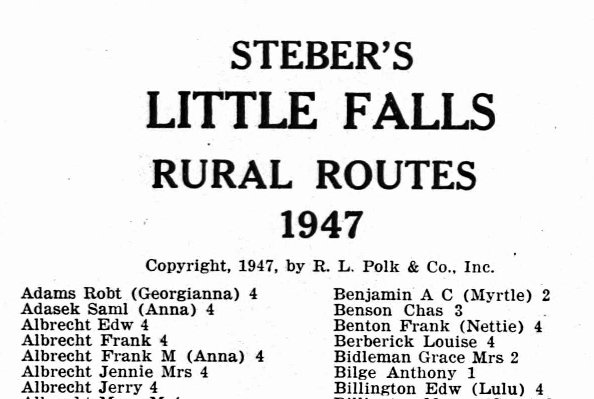 Steber's Little Falls and Dolgeville (Herkimer County, N.Y.) City Directory, 1947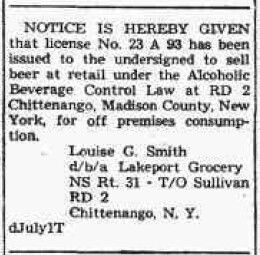 Madison County Times, Chittenango, Madison County, NY, 1 July 1960, page 6

Daily Sentinel, Rome, NY, 11 August 1971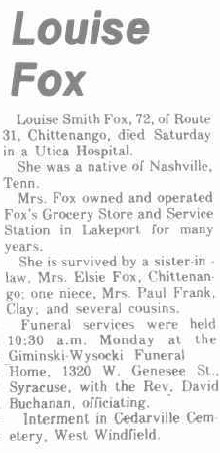 Chittenango-Bridgeport Times, 1 August 1979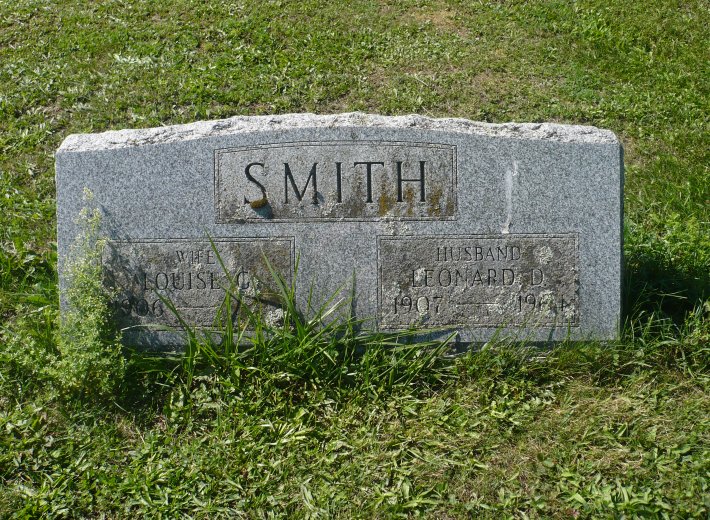 Louise G. and Leonard D. Smith gravestone, Cedarville Cemetery