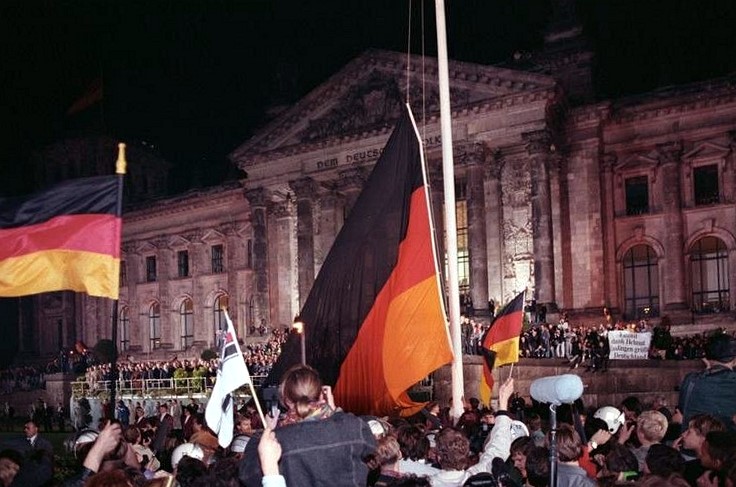 The flag of unity at midnight on 3 October 1990 in front of the Reichstag building. Bundesarchiv, Bild 183-1990-1003-400 / Grimm, Peer / CC-BY-SA [CC-BY-SA-3.0-de (http://creativecommons.org/licenses/by-sa/3.0/de/deed.en)]. German Federal Archives. Available from Wikimedia Commons.
October 3 is German Unity Day (Tag der Deutschen Einheit). It is the anniversary of
German reunification
, and has been a national holiday in Germany since 1990, when reunification took place. Between 1954 and 1990, June 17 had been "Day of German Unity." The day had commemorated the
Uprising of 1953
in East Germany.
A celebration is held every year in the capital of the German state that currently presides over the
Bundesrat
, the legislative body that represents the sixteen German states. Speeches are given by officials. The
speech
given at last year's celebration in Stuttgart by President Joachim Gauck is available online. After the ceremony, there is a citizens' festival (Bürgerfest), which includes cultural exhibits, music, and dance.
This year's celebration is in Hannover, the capital of Lower Saxony (Niedersachsen). The
108-page program
is available for download.
A street festival is also held at the
Brandenburg Gate
in Berlin. It includes beer gardens, food, music, amusement rides, games and theater performances.
References
Day of German Unity
Dennis, Matthew, ed. Germany: Holidays and Celebrations.
World Geography and Culture Online
. Facts On File, Inc.
German Unification Day - Street Party
German Unity Day
Speech to Mark the Day of German Unity
Tag der Deutschen Einheit