After her brother Carl died in
Ciudad Mante
, Tamaulipas, Mexico in 1974, my maternal grandmother
Margaret (Schneider) Boe
traveled to Mexico. She flew alone to Texas, and then flew to Mexico on a smaller plane which, according to my aunt Joan, she had described as a "
Piper Cub
." She brought her brother's will with her. She met Guadalupe Sanchez, who said she was Carl's wife, and made a settlement with her. My family is not sure that Carl and Guadalupe were actually married; she was a much younger woman, and may have claimed to be his wife because she wanted to collect his benefits. According to the report of Carl's death, he and his wife were separated and her address was unknown, so there could be some truth to this claim.
One of Carl's few possessions was a gold watch. My grandmother thought it might be the watch that he had inherited from their father, but it turned not to be valuable. My grandparents described it as a "bar watch."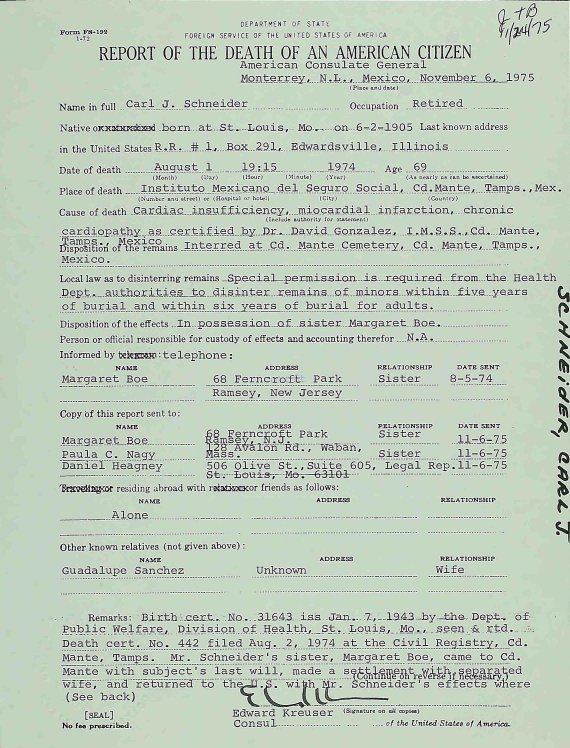 Report of the Death of an American Citizen, 6 November 1975. Carl J. Schneider. Ancestry.com. Reports of Deaths of American Citizens Abroad, 1835-1974 [database on-line]. Provo, UT, USA: Ancestry.com Operations, Inc., 2010. Original data: Reports of the Deaths of American Citizens, compiled 01/1835-12/1974. Publication A1 566. ARC ID: 613857. Record Group 59. National Archives at College Park, Maryland, U.S.A.