World Vegetarian Day is observed on October 1. It was established by the
North American Vegetarian Society
in 1977 "to promote the joy, compassion and life-enhancing possibilities of vegetarianism" (
http://www.navs-online.org/about/index.php
). It was endorsed by the
International Vegetarian Union
in 1978.
October 1 is also the start of Vegetarian Awareness Month, which ends with World Vegan Day on November 1. Non-vegetarians who pledge to go meat-free for Vegetarian Awareness Month could win up to $1,000 in a
random drawing
sponsored by the North American Vegetarian Society.
I have been a vegetarian since July 1, 2001. I decided that I didn't want to eat animals any more. Although I am not vegan, the majority of the food that I eat is vegan. If there is such a thing as "semi-vegan", that is the most accurate description of my diet.
Vegetarianism has a long history. The ancient Greek philosopher
Pythagoras
was a vegetarian. His followers, the Pythagoreans, also practiced vegetarianism. Until the nineteenth century, vegetarianism was often referred to as the Pythagorean diet. During the European Renaissance,
Leonardo da Vinci
and
Pierre Gassendi
were vegetarians.
In 1809, the
Bible Christian Church
was founded in Salford, Greater Manchester, England by
William Cowherd
. Members of the church abstained from eating meat.
The Vegetarian Society
in Greater Manchester, England was founded on 30 September 1847. On 15 May 1850, the
American Vegetarian Society
was established, but ceased during the 1860s. The
Vegetarian Society of America
was founded in 1886.
Chicago, Illinois was a major center for the vegetarian movement in the United States. The
Chicago Vegetarian Society
was founded in 1889. The
Vegetarian Federal Union
had an exhibit at the
World's Fair: Columbian Exposition
in Chicago in 1893. The
3rd International Vegetarian Congress
was held in Chicago at 1893. The Pure Food Lunch Room, located at 176 E. Madison Street, opened in 1900 and was the first vegetarian restaurant in Chicago. Some of my ancestors were living in Chicago at the time that these events took place.
John Harvey Kellogg
developed the first meat analog ("meatless meat") in 1896. It was peanut-based. By the early 1930s, Kellogg was producing textured soy proteins.
Vegetarian personal ads were placed as early as the 1850s. Some personal ads which were placed in
The Water-Cure Journal
in 1855 are reproduced on
Slate
's history blog
The Vault
. It would be interesting to find an ad that was placed by an ancestor!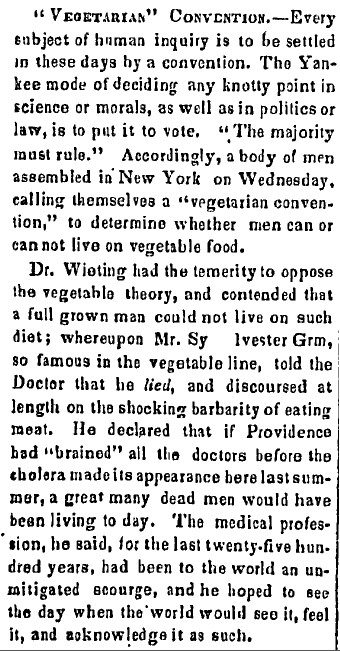 Trenton State Gazette, vol. IV, issue 1028, 17 May 1850, page 2.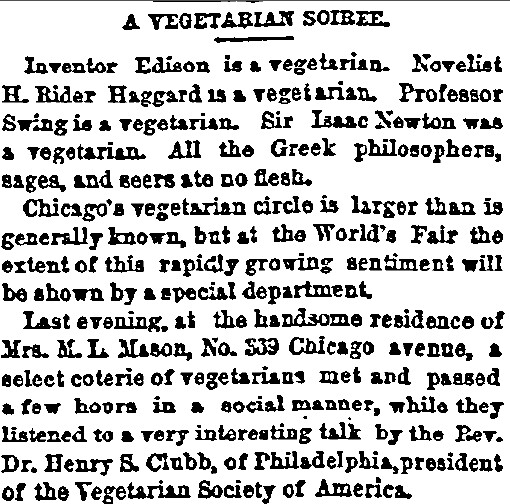 Daily Inter Ocean, vol. XIX issue 258 (8 December 1890) , page 7.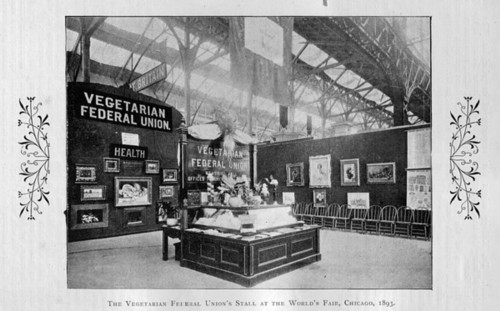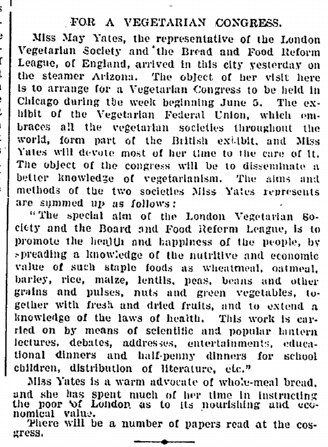 "Attendance At The Fair: Comparisons With The Centennial Ex-Position: More People At The Chicago Exhibition." New York Tribune, 16 May 1893, page 7.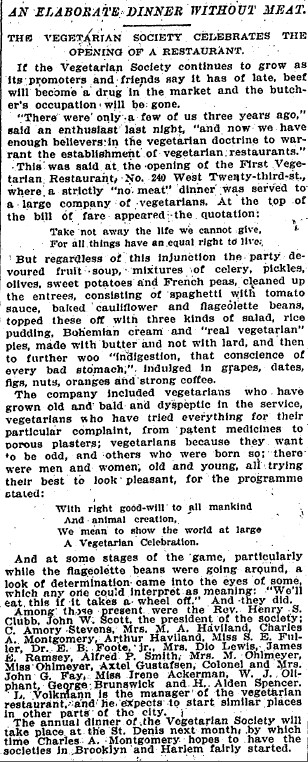 New York Herald-Tribune, 6 February 1895, page 8.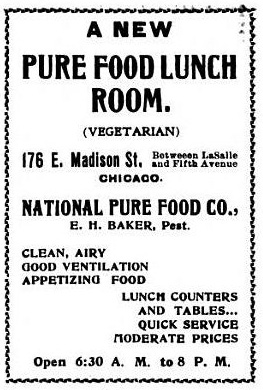 Advertisement for the Pure Food Lunch Room, Chicago's first vegetarian restaurant, 1900. Available from http://www.chicagoreader.com/Bleader/archives/2013/10/18/chicago-vegetarian-capital-of-america-c-1905.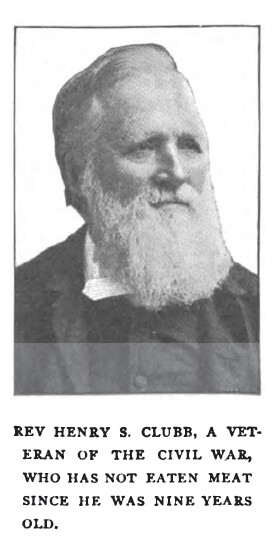 Rev. Henry Clubb, president of the Vegetarian Society of America. Photo from Henry S. Clubb, "The Vegetarians."Good Housekeeping, vol. 36 no. 2 (February 1903), page 112.
Available from Google Books.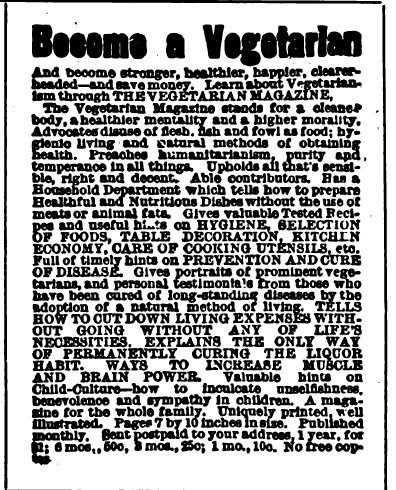 The Vegetarian Magazine, vol. 13 no 4 (December 1909), page 50.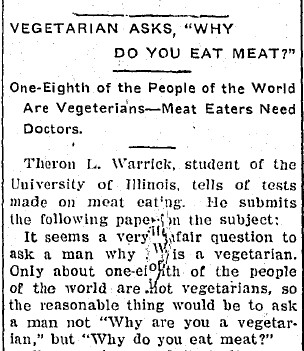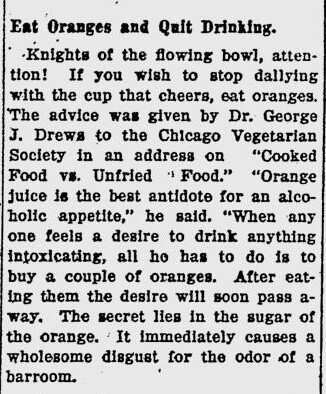 Kentucky New Era, 7 February 1911.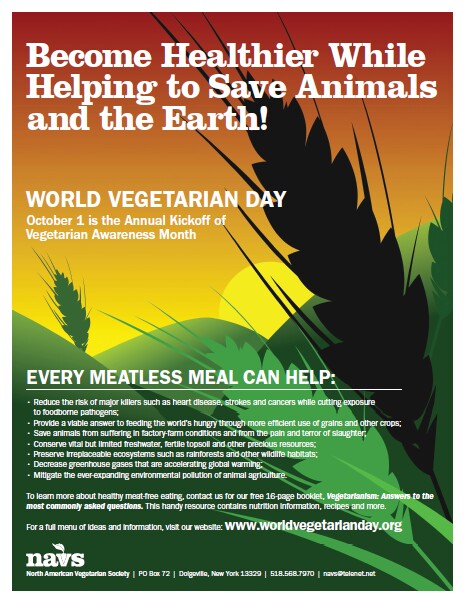 World Vegetarian Day poster, 2014. Available from http://www.worldvegetarianday.org/docs/WVD_Poster.pdf.
References
Chicago, Vegetarian Capital of America (c. 1905)
Christian Vegetarianism
Dr. John Harvey Kellogg and Battle Creek Foods: Work with Soy
The Exquisite Wistfulness of 19th-Century Vegetarian Personal Ads
History of Vegetarianism
Pythagoreanism
Timeline of Vegetarian History - The Ancient World
Timeline of Vegetarian History - From 1400 to 1800
Timeline of Vegetarian History - 19th Century to 1888
Timeline of Vegetarianism - 1889-1907: The Beginnings of International Vegetarianism
World History of Vegetarianism
World Vegetarian Day
World Vegetarian Day - NAVS