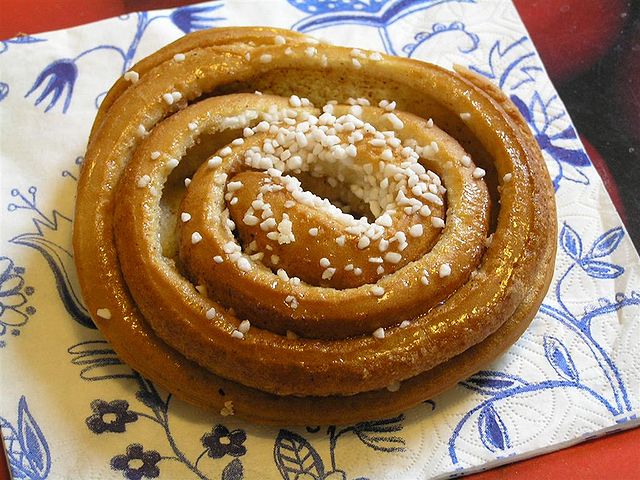 Swedish kanelbulle. Photo by Bengt Olof Åradsson. Public domain. Available from Wikimedia Commons.
October 4 is Cinnamon Bun Day (Kanelbullens Dag) in Sweden. The day was established in 1999 by the
Hembakningsrådet
(Home Baking Council), to celebrate its fortieth anniversary. The day draws attention to the Swedish tradition of baking buns, especially cinnamon buns. The Hembakningsrådet maintains a
Web site
for Kanelbullens Dag, and has a cinnamon bun design competition.
Swedish cinnamon buns are baked individually in paper muffin liners. They are topped with sugar, and contain cardamom.
Bakeries, stores, and cafés all over Sweden have cinnamon buns for sale on October 4.
References
Cinnamon Bun Day
Cinnamon Bun Day - Kanelbullens Dag
Kanelbullens Dag
Kanelbullens Dag (Cinnamon Bun Day), 4 October
October 4: Day of the Cinnamon Bun or 'Kanelbullens Dag'
Swedish Kanelbullens Dag