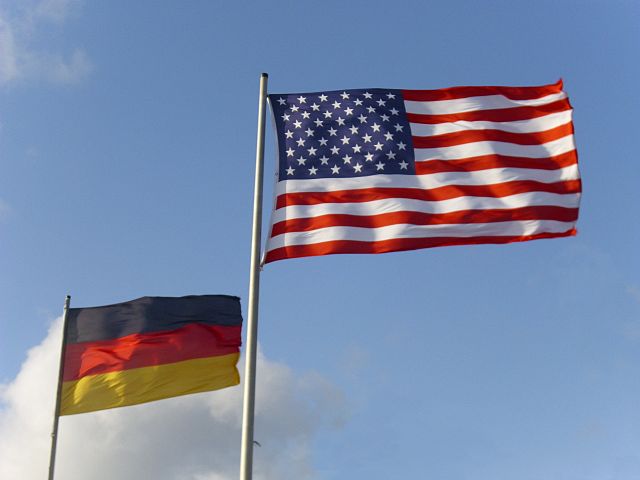 Flags of the United States of America and the Federal Republic of Germany. Photo by Tvabutzku1234 (Own work) [CC0]. Available from Wikimedia Commons.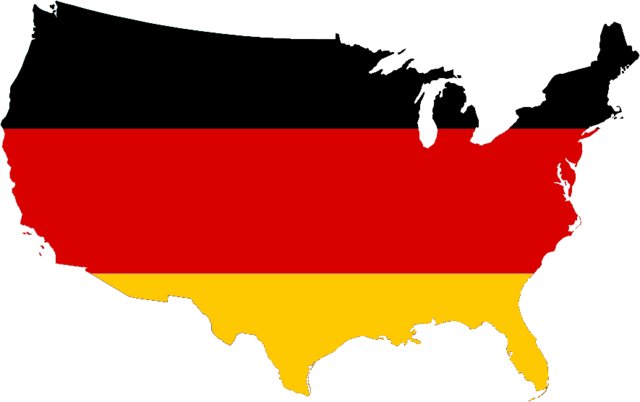 Map of the United States with the flag of Germany. By Porsche997SBS (wp: Porsche997SBS) (NA) [Public domain]. Available from Wikimedia Commons.
October 6 is German-American Day. The holiday honors the contributions of German immigrants to the United States. On 6 October 1683, thirteen German families from Krefeld arrived in Philadelphia. These families established the first German settlement at Germantown, Pennsylvania. German settlers had first arrived at Jamestown, Virginia on the ship
Mary and Margaret
around 1 October 1608.
German-American Day was celebrated in the 19th century, but died out during World War I because of anti-German sentiment. In 1983, President Ronald Reagan proclaimed 1983 as the Tricentennial Anniversary Year of German Settlement in America. Public Law 100-104, approved on 18 August 1987, designated October 6 as
German-American Day
. On 2 October 1987, President Ronald Reagan issued
Proclamation 5719
at a ceremony in the White House Rose Garden.
In
The German-American Experience
, Don Heinrich Tolzmann includes a six-page appendix which lists prominent German-Americans, including the following people:
Josef Albers
: painter
John Jacob Astor
: businessman, investor, fur trader, and the first multi-millionaire in the United States
Leon "Bix" Beiderbecke
: jazz musician
Walter P. Chrysler
: automobile manufacturer and founder of the
Chrysler Corporation
George Armstrong Custer
: Civil War and frontier general
Marlene Dietrich
: actress and singer
Theodore Dreiser
: novelist
Albert Einstein
: physicist
Dwight D. Eisenhower
: 34th President of the United States
Henry Louis "Lou" Gehrig
: baseball player (first baseman)
Oscar Hammerstein I
: producer of grand opera and vaudeville
Oscar Hammerstein II
: lyricist
Henry J. Heinz:
businessman and founder of the
H. J. Heinz Company
Herbert Hoover
: 31st President of the United States
Abraham Jacobi
: pioneer of pediatrics; opened the first children's clinic in the United States
Henry Kissinger
: statesman
Mary Ludwig
: fought in the
Battle of Monmouth
; known as "Molly Pitcher"
Anna Ottendorfer
: publisher of the
New Yorker Staats-Zeitung
John J. Pershing
: World War I general
Edward V. "Eddie" Rickenbacker
: World War I aviator
David Rittenhouse
: astronomer, inventor, and mathematician; first director of the
United States Mint
John D. Rockefeller
: industrialist and philanthropist; co-founder of the
Standard Oil Company
John A. Roebling
: civil engineer; designed the
Brooklyn Bridge
George Herman "Babe" Ruth
: baseball player (outfielder and pitcher)
Elisabeth Schumann
: grand opera soprano
John Steinbeck
: author
Henry E. Steinway
: founder of the piano company
Steinway & Sons
Levi Strauss
: founded the first company to manufacture blue jeans
Clement Studebaker
: wagon and carriage manufacturer; co-founder of the H & C Studebaker Company
Paul Tillich
: theologian
John Peter Zenger
: printer of the
New York Weekly Journal
; his trial established the principle of freedom of the press
October is German-American Heritage Month.
References
German-American Day
German-American Day: A Short History
German-American Day October 6 - US Customs and Border Protection
German-American Heritage Month: 25th Anniversary
Tolzmann, Don Heinrich.
The German-American Experience
. Amherst, NY: Humanity Books, 2000.
Tricentennial Anniversary Year of German Settlement in America