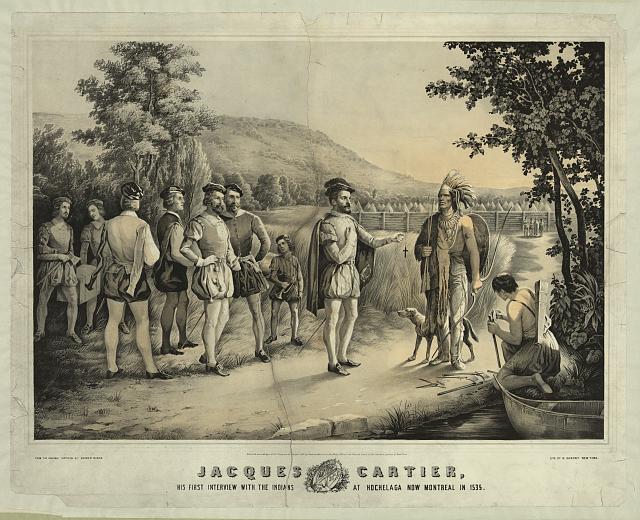 Jacques Cartier, his first interview with the Indians at Hochelaga now Montreal in 1535. c1850. Reproduction number LC-DIG-pga-02616 (digital file from original print). Library of Congress Prints and Photographs Division, Washington, DC 20540. Available from http://www.loc.gov/pictures/item/2003664061/.
On 2 October 1535, Jacques Cartier arrived in the village of Hochelaga (now Montreal). He had sailed from France in May 1535 with three ships: the
Grande Hermine
, the Petite Hermine, and the Émérillon. It was his second trip to Canada. The previous year, he had explored Newfoundland and the Gulf of the St. Lawrence. He had planted a cross on the shores of the Gaspé Bay, claimed the territory for France, and captured Domagaya and Taignoagny, two
St. Lawrence Iroquoians
. The two captured men returned with Cartier on his second voyage. On 7 September 1535, they arrived at
Stadacona
, a St. Lawrence Iroquoian village located near what is now Quebec City. On 19 September 1535, Cartier left Stadacona on the smallest of his three ships, the Émérillon. He landed at Hochelaga on the night of 2 October. The next morning, he walked to the village. Domagaya and Taignoagny had remained in Stadacona, so he used sign language to communicate with the villagers. A mountain overlooked the village; Cartier named it Mount Royal.
Some members of my family (the Graham, Winters, and Mapplebeck families) lived in Montreal.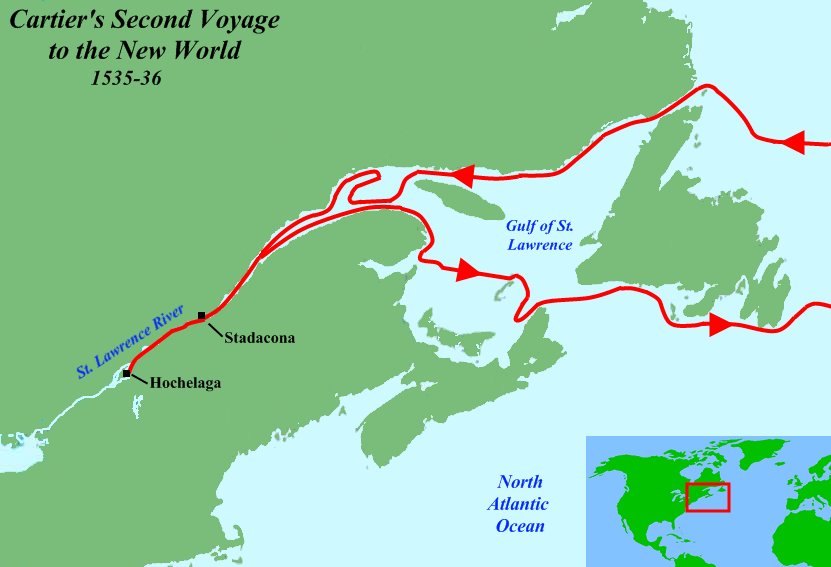 Map of Jacques Cartier's second voyage to North America in 1535-6. By Jon Platek [CC-BY-SA-3.0 (http://creativecommons.org/licenses/by-sa/3.0) or GFDL (http://www.gnu.org/copyleft/fdl.html)], 24 October 2009. Base maps used: Topographic30deg N30W60.png and Topographic30deg N30W30.png by User:Koba-chan. World locator map by User:Redeemer is from BlankMap-World2.png. Available from Wikimedia Commons.
References
The Explorers: Jacques Cartier 1534-1542
Hochelaga (village)
Jacques Cartier
Jacques Cartier
The Second Voyage (1535-1536)
Shorte and Briefe Narration (Cartier's Second Voyage), 1535-1536