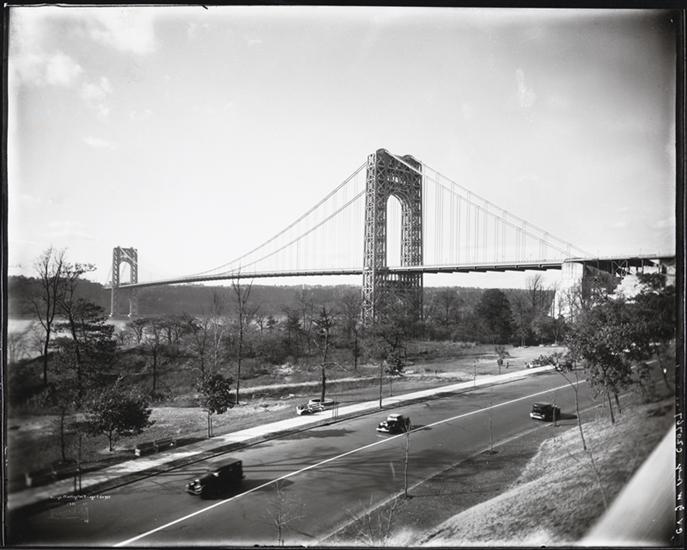 George Washington Bridge, 1931. Photo by Irving Underhill. From the Collections of the Museum of the City of New York.
On 25 October 1931 at 5:00 AM, the George Washington Bridge opened to traffic. That day, 56,312 cars and 100,000 pedestrians crossed the bridge. There were long lines of traffic on both the New York and New Jersey sides of the bridge, but no major accidents.
A dedication ceremony had taken place the previous day, and the bridge was open to pedestrians from 6:00 PM to 11:00 PM.
The bridge was a project of the
Port of New York Authority
.
Othmar Ammann
was the chief engineer, and
Cass Gilbert
was the architect. Construction began in October 1927. The bridge's towers were originally going to be encased in concrete, with granite facing, but as a cost-saving measure, the steel towers remained exposed indefinitely and became accepted by the public.
When the bridge opened, the toll for cars was 50 cents. A motor bus company took passengers from Fort Lee, New Jersey to the 181st Street subway station for 5 cents. The toll for pedestrians was 10 cents, but it was later reduced to 5 cents, and it was discontinued on 30 May 1940. More than 5.5 million vehicles traveled across the bridge in 1932.
Initially, there were six lanes of traffic on the bridge. Two more lanes were added to the bridge in 1946. The lower level of the bridge opened on 29 August 1962.
After the construction of the George Washington Bridge began, the population of Bergen County, New Jersey increased in anticipation of the bridge's opening. Ridgewood, New Jersey expected a population increase, since the opening of the George Washington Bridge would make commuting to New York City easier. In the 1950s, my parents and grandparents moved to Ridgewood, and both of my grandfathers worked in New York City.
References
"An Astounding Span of Steel and Wire."
New York Times
18 October 1931: 119.
ASCE Metropolitan Section - George Washington Bridge
"Bridge Commuters Pay 5-Cent Fare."
New York Times
25 October 1931: RE1.
"Dedication Today for Hudson Bridge."
New York Times
24 October 1931: 19.
"56,312 Cars Cross Bridge on First Day; Festive Air Reigns."
New York Times
26 October 1931: 1.
George Washington Bridge
History - George Washington Bridge - The Port Authority of NY & NJ
"Population Rises in Bergen County."
New York Times
25 October 1931: RE1.
"Ridgewood Expects Gain from Bridge."
New York Times
25 October 1931: RE2.