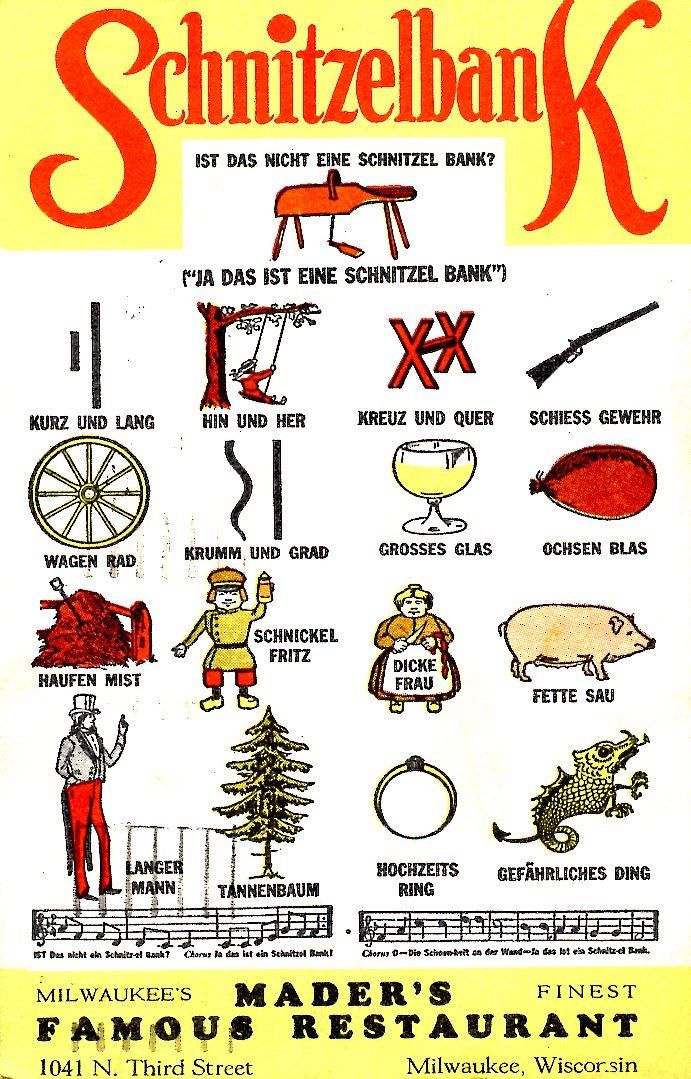 The "Schnitzelbank Song" is a German folk song with humorous rhymes which is sometimes used to teach children German words and phrases. It is also a drinking song which was traditionally sung at pre-Lenten festivities (called Fasching, Fastnacht, or Karneval) in southwestern Germany and Switzerland. Nearly all German-heritage breweries have created posters with images of the items named in the song. There are German steins with images and lyrics from the song. The first published version of the song was printed around 1830 in Karlsruhe. In the mid-1800s, German immigrants brought the song to America.
A Schnitzelbank is a "
shaving horse
," a type of woodworking bench. It could be used by farmers, basketmakers, wheelwrights, and coopers. It could be used to make barrels that hold beer; coopers used the shaving horse to shave barrel staves.
Traditionally, one person would hold a pointer and call out each item, and the crowd would then respond. The song begins with the words "Ist das nicht eine Schnitzelbank?" The crowd then replies with "Ja, das ist eine Schnitzelbank!" The chorus of the song is then sung: "O Die Schönheit an der Wand, Ja das ist eine Schnitzelbank." The next verse would then begin: "Ist das nicht ein...?"
A rough English translation is provided by Polly Campbell in the
Cincinnati Enquirer.
Another
translation
is provided by Joe Thiel.
My maternal grandmother
Margaret (Schneider) Boe
was the daughter of German immigrants. I remember hearing this song from her when I was growing up. When I was a child, I found the "Haufen Mist" part of the song especially humorous."Haufen Mist" is "manure pile," although I believe my grandmother told me it was "horse manure."
A version of the song can be heard
here
.
References
Getting to Gemütlichkeit: German History and Culture in Southeast Louisiana
Ist das nicht eine Schnitzelbank?
More Schnitzelbank info
Music to My Beers
Prepare Yourself for Singalongs: Tunes Lose Something in Translation to English
Schnitzelbank
Schnitzelbank Carves One Great German Song
A Schnitzelbank Stein