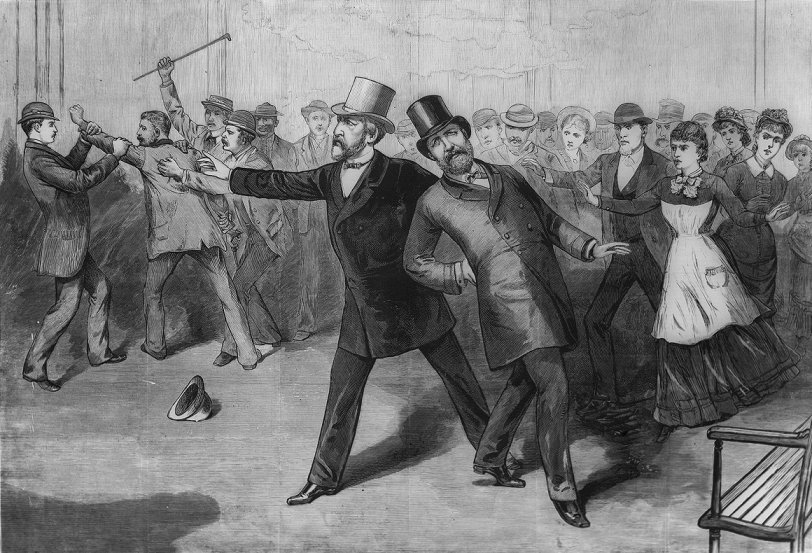 Engraving of James A. Garfield's assassination. A. Berghaus and C. Upham. Frank Leslie's Illustrated Newspaper, 16 July 1881. Public domain. Available from Wikimedia Commons.
On 2 July 1881, President James A. Garfield was shot by Charles J. Guiteau at the Baltimore and Potomac Railroad Station in Washington, D.C. Guiteau had wanted Garfield to appoint him to the position of consul in Paris, but he did not receive the position. He shot Garfield in the back and in the arm. Garfield died on 19 September 1881.
My
great-grandmother
's brother Garfield Graham may have been named after President Garfield. He was born on 26 May 1881 or 1882 in Quebec, Canada (probably in Montreal). His birth year is recorded as 1881 in the family Bible, but the record may have been made long after his birth, or copied from an earlier family Bible. His World War I and World War II draft cards, his Social Security application, and his death certificate all give his birth year as 1882.
Garfield's parents
James Graham
and
Catherine Elizabeth Winters
were American citizens who were living in Montreal, Quebec, Canada. Perhaps they still felt patriotic and that influenced their choice of name. I have wondered if there might be something more, though. Perhaps there was a reason that they particularly liked President Garfield. Maybe they could relate to his background. When James Garfield first left home, he got a job managing the mules that pulled a canal boat. Catherine Elizabeth Winters' father
John Bennet Winters
probably worked on the first enlargement of the Erie Canal. Although I have not conclusively identified James Graham's family of origin, the family that I suspect was his spent some time living in Sandusky, Erie County, Ohio. They were living there at the time of the 1860 United States census. James Garfield was from Ohio. He had been a state senator and served until 1861. Perhaps James Graham's family had liked him. Maybe Garfield Graham's name is yet another clue that suggests I have identified the right family of origin for James Graham.
References
James A. Garfield