Chicago Daily Tribune, 15 July 1874, page 1
Nearly three years after the
Great Chicago Fire
, there was another fire in Chicago. It began in the area of Taylor, Twelfth, and Clark Streets and Fourth Avenue (known as the Cheyenne district), which contained many "houses of ill-fame".
Buildings were blown up to try to contain the fire, but this action created additional fire. People tossed their belongings onto the street to try to save them, and many of their possessions were stolen. The saloons near the burnt district were crowded (after what they went through, many people probably needed a drink!) Thousands of people gathered at Lake Park with their belongings.
As a cat lover, I was pleased to learn that a woman had managed to rescue her four cats (but I disagree with the
Chicago Daily Tribune
's characterization of the rescue as "a ludicrous incident"!)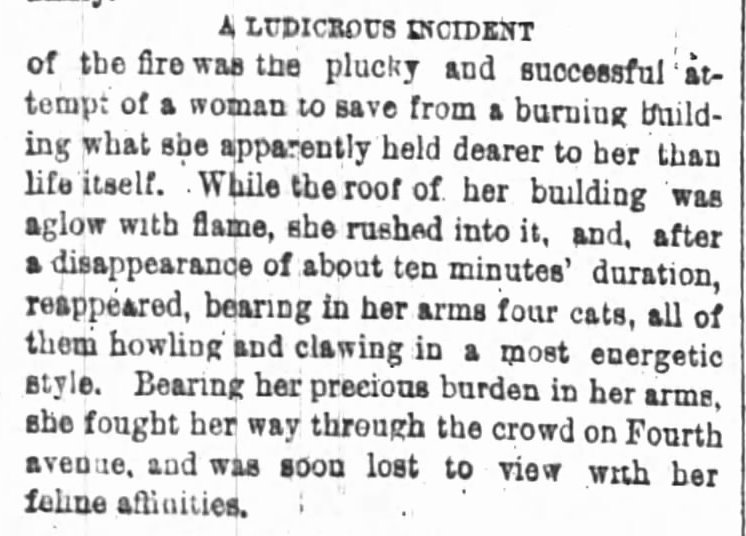 Chicago Daily Tribune, 15 July 1874, p. 12
Forty-seven acres south of the Loop were burned, 20 people were killed, 812 buildings were destroyed, including the St. James Hotel, the Michigan Avenue Hotel, the Jones School, the Great Adelphi (Aiken's Theatre), the post office, the First Baptist Church, and the Kehilath Anshe Ma'ariv Synagogue. The neighborhood's residents included middle-class African-Americans and Jewish immigrants from Poland and Russia.
After the fire, the National Board of Fire Underwriters demanded that Chicago make changes in fire prevention and firefighting. Many fire insurance companies canceled their coverage of buildings in Chicago.
It was alleged that Nathan Isaacson, a Jewish immigrant, had set fire to his shanty and barn, which were located next to an oil factory. He was arrested and charged with arson, but was not convicted. He was probably the victim of prejudice.
References
Chicago Fire of 1874
The Fire.
Chicago Daily Tribune
, 15 July 1874, pp. 1-2, 7, 12.
The Second Chicago Fire - July 14, 1874
. The Story of a House: Official Blog of Glessner House Museum.