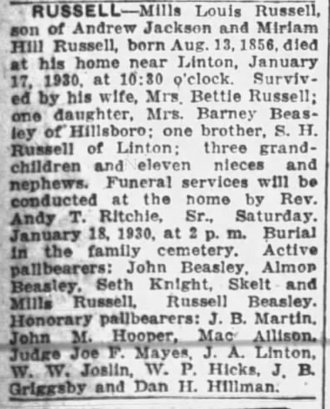 Nashville Tennessean, 18 January 1930, page 5
RUSSELL
––Mills Louis Russell, son of Andrew Jackson Russell and Miriam Hill Russell, born Aug. 13, 1856, died at his home near Linton, January 17, 1930, at 10'30 o'clock. Survived by his wife, Mrs. Bettie Russell; one daughter, Mrs. Barney Beasley of Hillsboro, one brother, S. H. Russell of Linton, three grandchildren and eleven nieces and nephews. Funeral services will be conducted at the home by Rev. Andy T. Ritchie, Sr., Saturday, January 18, 1930, at 2 p.m. Burial in the family cemetery. Active pallbearers: John Beasley, Seth Knight, Skelt and Mills Russell, Russell Beasley. Honorary pallbearers: J. B. Martin, John M. Hooper, Mac Allison, Judge Joe F. Mayes, J. A. Linton, W. W. Joslin, W. P. Hicks, J. B. Griggsby and Dan H. Hillman.
Mills Louis Russell was the son of my
4th-great-grandmother
's brother James Russell and Miriam Hill. The obituary incorrectly states that his father's name was Andrew Jackson Russell. James Russell's father was
Andrew Russell
; perhaps his middle name was Jackson.
Mills married Ollie Elizabeth "Bettie" Butts on 31 December 1882 in Williamson County, Tennessee. Their daughter Medora "Dora" Russell was born on 3 October 1883. She married William Barnett "Barney" Beasley on 24 February 1909 in Williamson County, Tennessee.