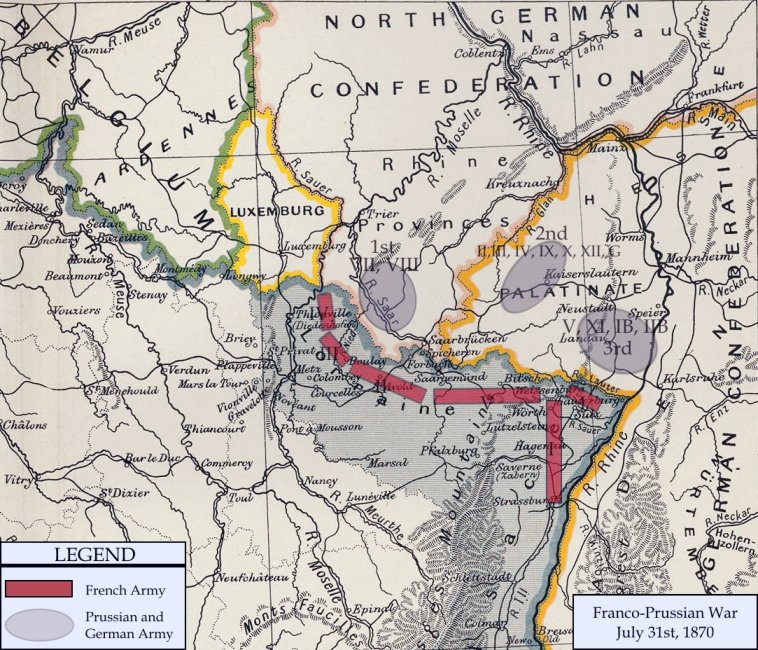 Franco-Prussian War map of 1870. Cambridge Modern History Atlas. Edited by A. W. Ward, G. W. Prothero, and Stanley Leathes. London: Cambridge University Press, 1912. Public domain. Available from Wikimedia Commons.
The Franco-Prussian War began on 19 July 1870, when France declared war on Prussia. The German states united against France and raised an army of about 400,000 men.
The French won a skirmish in Saarbrucken on 2 August 1870. The first major battle took place at Wissembourg on 4 August 1870. The Germans were victorious. They also won battles at Spicheren on August 5-6, 1870 and at Wörth on 6 August 1870. On 16 August 1870, the Germans again defeated the French at Mars-la-Tour.
The largest battle of the war took place at Gravelotte on 18 August 1870. The German army lost more than 20,000 troops, and the French army lost more than 12,000 troops.
The French were defeated at the Battle of Sedan on 1 September 1870, and Napoleon III surrendered to the Germans the next day. The Siege of Paris began on 19 September 1870. The Armistice of Versailles ended the fighting on 28 January 1871, and the war ended when the Treaty of Frankfurt was signed on 10 May 1871.
My
2nd-great-grandfather
's brother Joseph Gerspacher died in Rastatt, Baden on 3 August 1870. The cause of death was
Kriegsfolgen
(consequences of war). Rastatt was a main supply base for east of the Rhine River during the Franco-Prussian War.
References
CFB Baden Soellingen Remembered: Crossroad
Faller, Helmut.
Familiengeschichte der Gemeinde Görwihl
. Bad Säckingen : H. Faller, 2000.
Franco-Prussian War
The Franco Prussian War