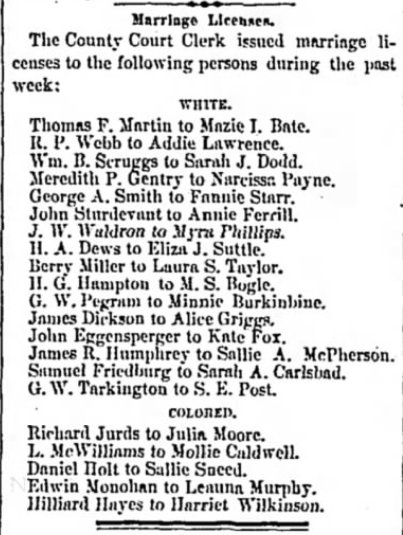 Daily American, 19 January 1878, page 4
On 16 January 1878,
George Washington Tarkington
married Susan E. Post in Davidson County, Tennessee. They were married by J. B. Cox, J. P.

Tennessee, County Marriages, 1790-1950, database with images, FamilySearch (https://familysearch.org/ark:/61903/1:1:KZ7R-D7R : 14 July 2015), G W Tarkington and S E Post, 16 Jan 1878; citing Davidson, Tennessee, United States, Marriage, p. 88, Tennessee State Library and Archives, Nashville and county clerk offices from various counties; FHL microfilm 200,297.
George was the son of my 3rd-great-grandparents
Joseph Tarkington
and
Amanda Russell
. Susan was the daughter of Ferdinand Post and Sarah Elsesser.