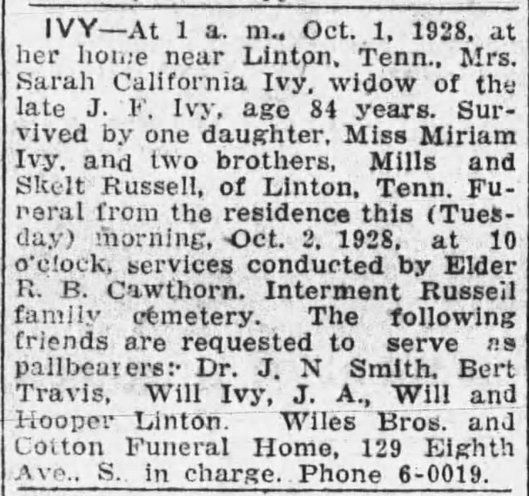 Nashville Tennesseean, 2 October 1928, page 5
IVY
––At 1 a. m., Oct. 1, 1928, at her home near Linton, Tenn., Mrs. Sarah California Ivy, widow of the late J. F. Ivy, age 84 years. Survived by one daughter, Miss Miriam Ivy, and two brothers, Mills and Skelt Russell, of Linton, Tenn. Funeral from the residence this (Tuesday) morning, Oct. 2, 1928, at 10 o'clock, services conducted by Elder R. B. Cawthorn. Interment Russell family cemetery. The following friends are requested to serve as pallbearers: Dr. J. N. Smith, Bert Travis, Will Ivy, J. A., Will and Hooper Linton. Wiles Bros. and Cotton Funeral Home, 129 Eighth Ave., S, in charge. Phone 6-0019.
Sarah California "Callie" Russell was born in Tennessee on 13 September 1844. She was the daughter of of my
4th-great-grandmother
's brother James Russell and Miriam Hill. She married James F. Ivy on 27 January 1876 in Williamson County, Tennessee. Their daughter Miriam was born in May 1887. Her husband died on 19 July 1925. Callie died on 1 October 1928.