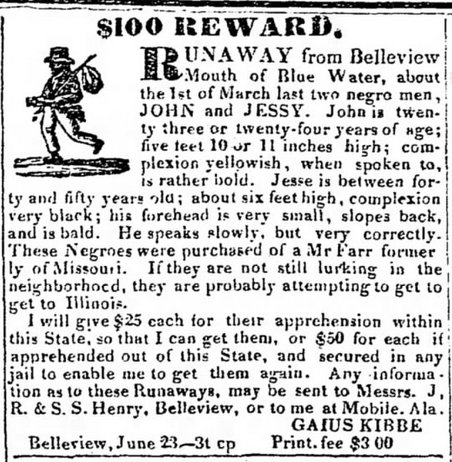 Nashville Republican, 4 July 1835, page 1
$100 REWARD.
R

UNAWAY
from Belleview Mouth of Blue Water, about the 1st of March last two negro men, JOHN and JESSY. John is twenty three or twenty-four years of age; five feet 10 or 11 inches high; complexion yellowish, when spoken to, is rather bold. Jesse is between forty and fifty years old; about six feet high, complexion very black; his forehead is very small, slopes back, and is bald. He speaks slowly, but very correctly. These Negroes were purchased of a Mr Farr formerly of Missouri. If they are not still lurking in the neighborhood, they are probably attempting to get to Illinois.
I will give $25 each for their apprehension within this State, so that I can get them, or $50 for each if apprehended out of this State, and secured in any jail to enable me to get them again. Any information as to these Runaways, may be sent to Messrs. J. R. & S. S. Henry, Belleview, or to me at Mobile, Ala.
GAIUS KIBBE
Belleview, June 23––3t cp Print. fee $3 00