My great-great-grandmother Catherine Elizabeth Winters was born on 12 November 1861 in Tonawanda, Erie County, New York. She was the daughter of
John Bennet Winters
and
Anna "Ann" Walker
. By 1866, Elizabeth had moved to Chicago, Illinois with her family. Her younger siblings
Hugh, Alice, and David
all died between 1866 and 1868. Her family was probably affected by the
Great Chicago Fire
of 1871. On 19 September 1872, Elizabeth's mother Ann died.
Elizabeth married
James Graham
. The family story is that he had been a Catholic priest. I have not yet found their marriage record, but they probably married before 31 October 1879, when my great-grandmother Kathleen (probably born Catherine, because earlier records show her with that name) was born. Elizabeth's father John died in Montreal, Quebec, Canada on 25 December 1879. The Graham family was definitely in Canada by 1881, when they appear on the
1881 Census of Canada
, living in Hochelaga, Quebec, Canada (near Montreal, and now part of Montreal). Their son Garfield was born on 26 May 1881 or 1882. After 1883, James Graham disappears from the records. The family story is that he went back to the priesthood. On 20 November 1885 in Montreal, Elizabeth married James Mapplebeck, a glassblower who was originally from Ontario, Canada. Their marriage record states that she was a widow. However, considering the family story, I am not sure if she was really a widow. Although I am skeptical of the story that James Graham returned to the priesthood, he may have abandoned the family.
The Mapplebeck family (Elizabeth's children used their stepfather's surname until the early to mid-1900s and appear to have been at least informally adopted by him) moved from Montreal to Alton, Madison County, Illinois sometime after the 1891 census, between 1891 and 1892. By 1898, James Mapplebeck had left the family and gone to California.
Elizabeth moved to St. Louis, Missouri in 1905. Her daughter Kathleen was already living there. By 1908, her son Garfield had moved there as well. In the
1910 United States Census
, Kathleen and her family were enumerated in Elizabeth's household, possibly visiting from North Dakota. Elizabeth ran a boarding house in St. Louis.
On 2 March 1942, there was a fire at the Brantwood Nursing Home in Lemay, St. Louis County, Missouri. The 3 March 1942 issue of the
St. Louis Post-Dispatch
stated that Elizabeth Mapplebeck was one of the patients who was at City Hospital after the fire. Elizabeth died on 4 March 1942. According to her death certificate, the cause of death was coronary sclerosis due to chronic nephritis. There was no mention of the fire, but surely it played a role in her death. Elizabeth was cremated on 5 March 1942, and her ashes were scattered on 27 April 1942.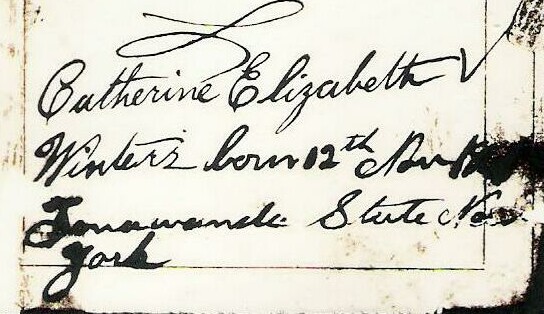 Birth record, Catherine Elizabeth Winters. Winters family Bible.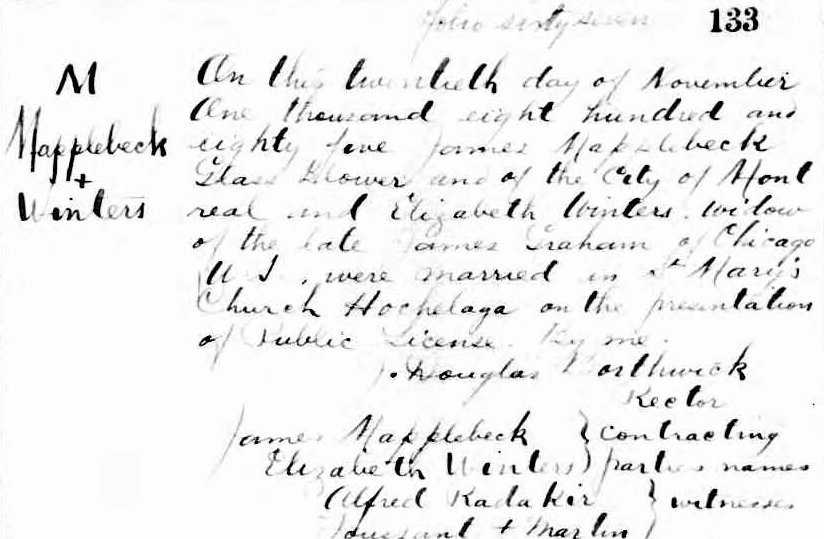 St. Mary's Church, Hochelaga, Quebec, Canada. Marriage of James Mapplebeck and Elizabeth Winters, 20 November 1885. Drouin Collection. Montreal, Quebec, Canada: Institut Généalogique Drouin.

Alton, Illinois city directory, 1901-1902.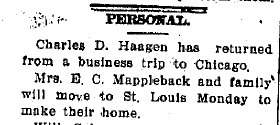 Alton Evening Telegraph, 20 October 1905, p. 4

St. Louis, Missouri city directory, 1923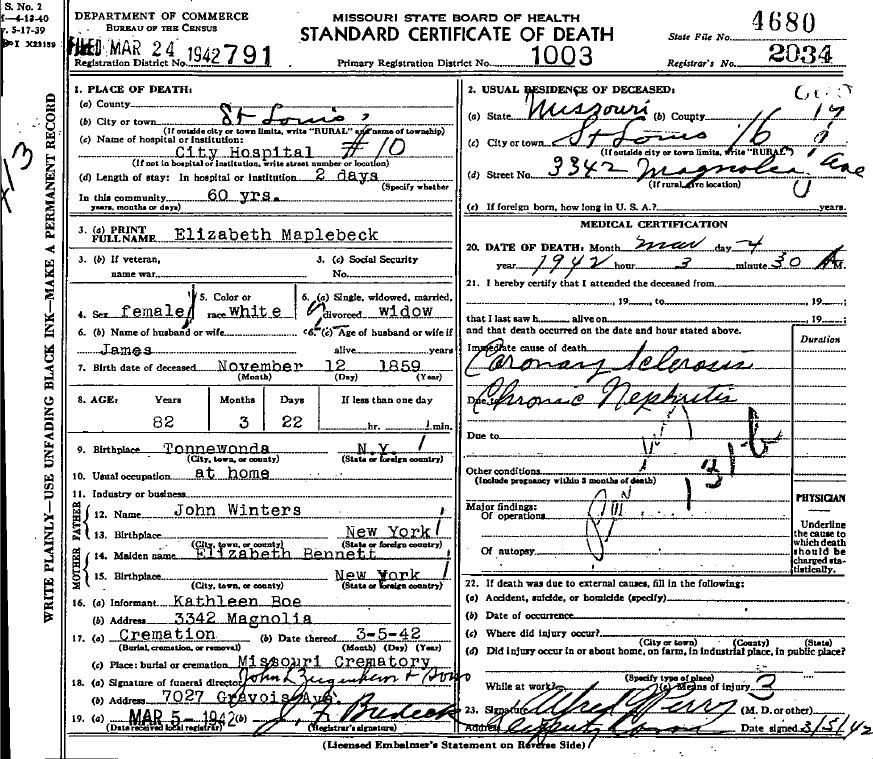 Elizabeth Maplebeck death certificate. Missouri State Board of Health
.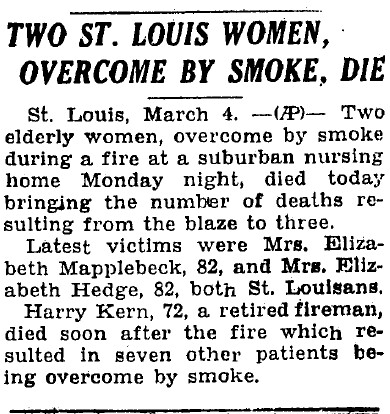 Joplin Globe, 5 March 1942