Ola Petter Troedsson, the brother of my great-great-grandfather
Andreas Troedsson
, was born on 11 December 1841 in Grevie, Skåne, Sweden, and was baptized on 14 December 1841. He was the first child of Troed Andersson and Christina Jacobsdotter. Household examination records list him as Sjöman (seaman) Ola Petter Troedsson.
On 12 April 1871, Ola Petter boarded the ship Friedeburg in Hamburg, Germany, headed for Australia. The passenger list showed that his previous residence was Copenhagen, Denmark (which is near Skåne, Sweden). He arrived at Moreton Bay, Queensland, Australia on 12 August 1871. The 15 August 1871 issue of the
Brisbane Courier
contains an
account of the voyage
. The text is faded and difficult to read, but additional information about the voyage can be found on a Web page about
Jørgen Berthelsen
's voyage to Australia. He traveled at the same time as Ola Petter.
After immigrating to Australia, he modified his name slightly and was known as Ola Peter Troedson. He married Rosina Catharine Louise Walter on 20 August 1878. Rosina was an immigrant from Pfedelbach, Württemberg, Germany. She had come to Australia with her family in 1865, when she was eight years old. The couple lived in Brisbane and had nine children: Theodore Christopher (born 17 October 1879), John Frederick (born 17 July 1881), Annie Christina (born 25 January 1883), Alfred William (born 3 August 1884), Ellen Louisa (born 26 July 1886), Peter Henry (born 4 August 1888),
George Arthur
(born 12 April 1890), Matilda (born 1 August 1891), and Otto Edward, later known as Edward Otto (born 20 January 1893).
Ola Peter took an
oath of allegiance
on 18 July 1901. Three years later, he lost two members of his family almost at the same time: his son John Henry died on 5 June 1904, and his wife Rosina died on 11 June 1904. Two of his other children also predeceased him: his daughter Annie Christina (Troedson) McDonald died on 20 January 1916, and his son Peter Henry died on 16 May 1923.
Ola Peter died at his home in Fortitude Valley, Brisbane, Queensland, Australia on 12 May 1926. He was buried in Toowong Cemetery.

Birth/christening record for Ola Petter, 1841. Grevie CI-5 (1837-1861), image 27.

Birth/christening record for Ola Petter, 1841. Grevie births, 1829-1874. Page 47.

Household examination. Grevie AI-13 (1864-1869), image 80
.

Household examination. Grevie AI-14 (1870-1876), image 80.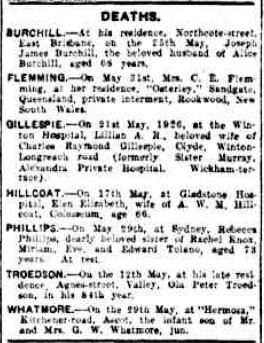 Brisbane Courier, 5 June 1926