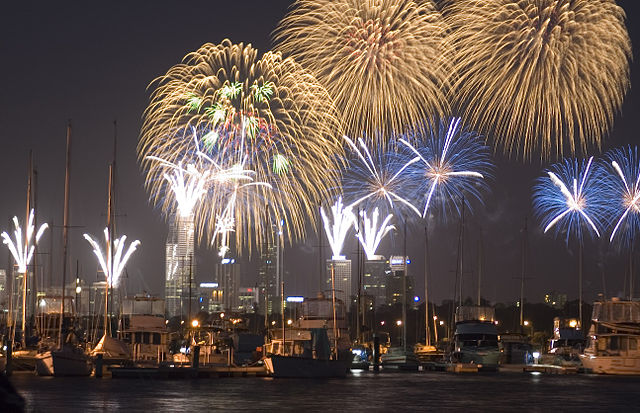 Lotterywest Skyworks, Applecross, Western Australia. 26 January 2006. Photo by By Nachoman-au [GFDL (http://www.gnu.org/copyleft/fdl.html), CC-BY-SA-3.0 (http://creativecommons.org/licenses/by-sa/3.0/) or CC BY-SA 2.5-2.0-1.0 (http://creativecommons.org/licenses/by-sa/2.5-2.0-1.0)]. Available from Wikimedia Commons.
January 26 is Australia Day. The day commemorates the arrival of the First Fleet from Great Britain at Port Jackson, New South Wales in 1788, and the raising of the British flag at Port Jackson by Arthur Phillip, the first governor of New South Wales. The First Fleet consisted of eleven ships: six convict transport ships (
Alexander
,
Charlotte
,
Friendship
,
Lady Penrhyn
,
Prince of Wales
, and
Scarborough
) three food and supply transport ships (
Borrowdale
,
Fishburn
, and
Golden Grove
), and two Royal Navy escort ships (HMS
Sirius
and HMS
Supply
).
By 1804, January 26 was called First Landing Day or Foundation Day. Celebrations took place by 1808. The emancipated convicts were especially likely to celebrate. The first official celebration took place in 1818. January 26 was declared a public holiday in 1838. Until 1888, the day was celebrated in New South Wales, but in 1888, other Australian colonies joined New South Wales in the celebration, which was called Anniversary or Foundation Day. In 1994, January 26 became a public holiday, Australia Day, in all Australian states and territories.
Australia Day events include picnics, barbecues, outdoor concerts, parades, fireworks, festivals, and boat races.
My
2nd-great-grandfather
's brother
Ola Peter Troedson
immigrated to Australia in 1871.
References
Arthur Phillip
Australia Day
Australia Day: History
Australia Day: Timeline
First Fleet