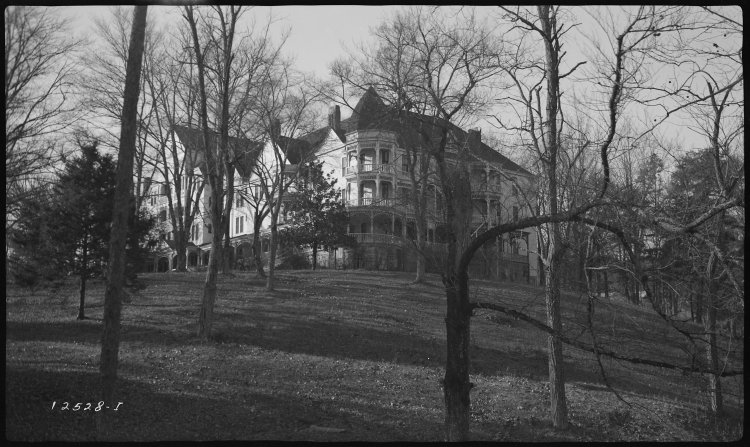 Tate Spring Hotel. 1940. Tennessee Valley Authority. Information Office. Record Group 142: Records of the Tennessee Valley Authority, 1918 - 2000. Series: Kodak Negative File, compiled 1933 - 1976. NAIL Control Number: NRCA-142-INF001-12528I. U.S. National Archives and Records Administration. ARC Identifier 281360. Public domain. Available from U.S. National Archives and Wikimedia Commons.
On 17 June 1899, my
2nd-great-grandfather
's sister Jennie Tarkington and brother Thomas Tarkington left for Tate Springs, a health resort in East Tennessee.

Nashville American, 18 June 1899, page 3
In 1865, Samuel Tate bought 25,000 acres of land around a mineral spring in Bean Station, Grainger County, Tennessee. He built a Victorian-style hotel large enough to hold 500 people and opened the Tate Springs resort. In the 1870s, the resort was purchased by Thomas Tomlinson.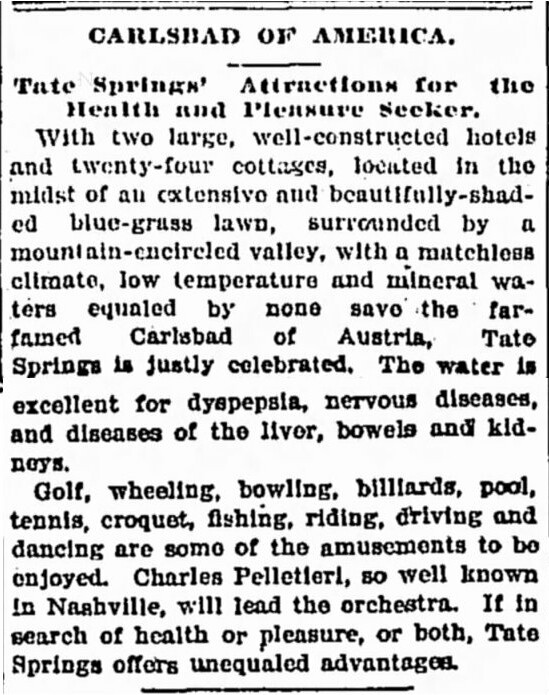 Nashville American, 11 June 1899, page 1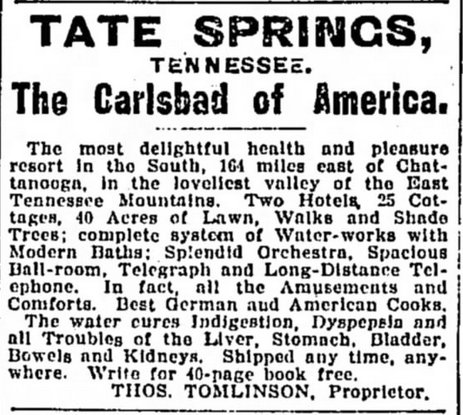 Nashville American, 11 June 1899, page 8
The water was said to have healing properties. It was prescribed by doctors and was sold and shipped all over the world.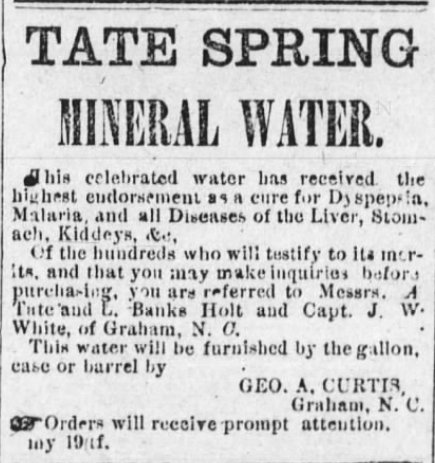 Alamance Gleaner (Graham, NC), 19 May 1887, page 3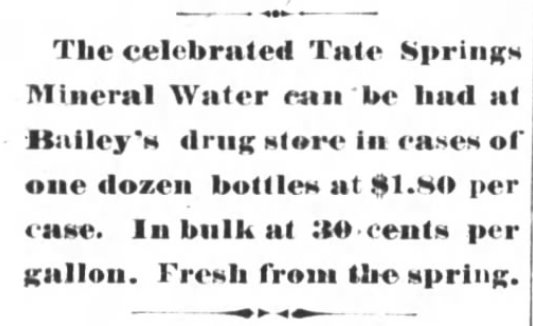 Evening Index (Greenwood, SC), 5 July 1900, page 8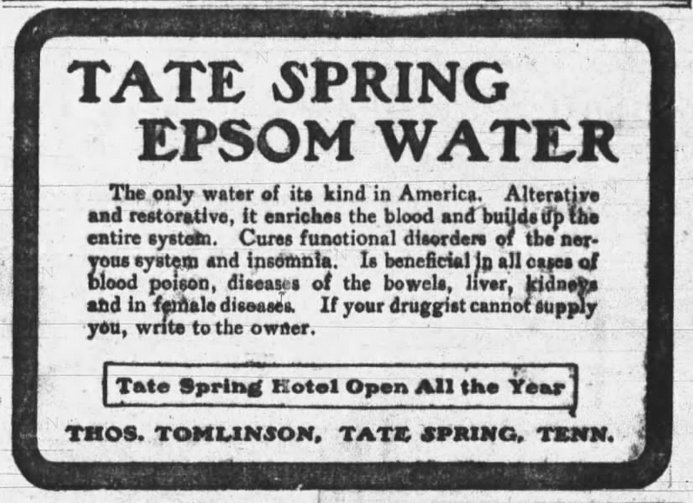 Daily Arkansas Gazette, 24 July 1903, page 4
Tate Springs water was exhibited in the Knoxville and Agricultural buildings at the
Tennessee Centennial Exposition
.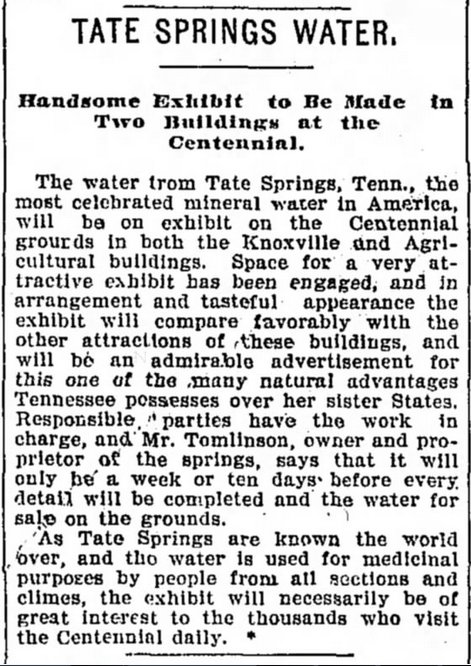 Nashville American, 1 May 1897, page 22
The hotel was enlarged in 1898, 1900, and 1905. It could then hold 600 people. The resort had coal-powered generators which produced steam heat and electricity. By the early 1900s, Tate Springs had 35 to 40 outbuildings, a ballroom, stables, a swimming pool, a billiards room, tennis courts, a golf course, and a 100-acre park.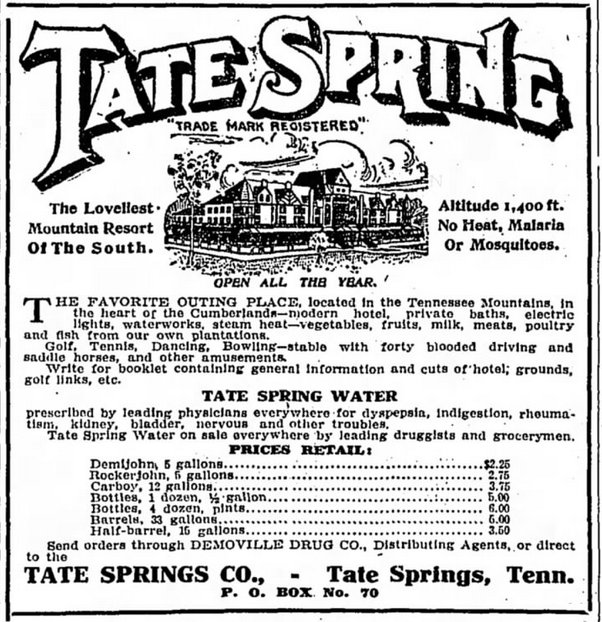 Nashville American, 20 June 1909, page 24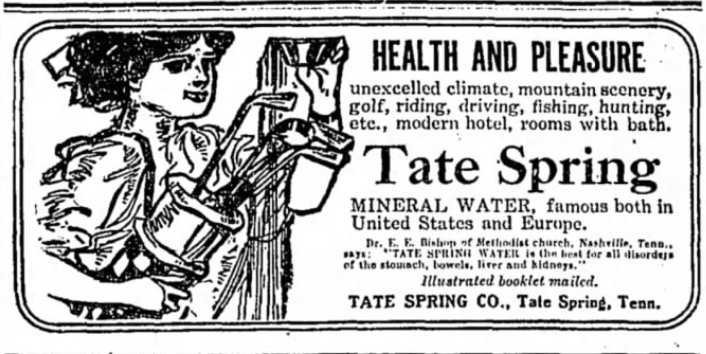 Nashville Tennessean and Nashville American, 7 May 1911, page B6
In 1917, a cottage at Tate Springs cost $17.50 to $21.00 per week. A hotel room cost $21.00 to $24.50 per week. Cottages and rooms with private baths cost slightly more. Some people were permanent residents at Tate Springs.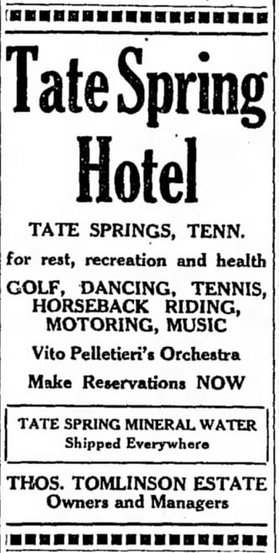 Nashville Tennessean, 14 July 1922, page 14
The hotel closed in 1936, and the resort closed in 1941. The springhouse still remains and is listed on the
National Register of Historic Places
.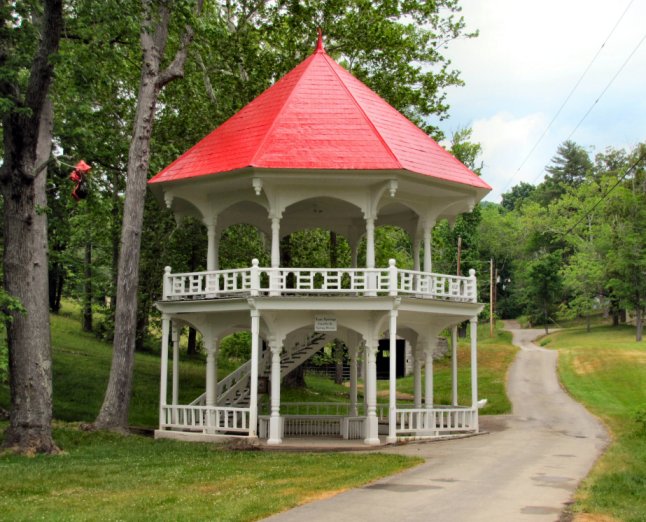 Tate Springs Springhouse and Gazebo, Bean Station, Tennessee. 17 May 2015. Photo by Brian Stansberry [CC BY 3.0 (http://creativecommons.org/licenses/by/3.0)]. Available from Wikimedia Commons.
References
Bean Station TN - our history
Philips, Bud.
Tate Springs was once a popular health resort
.
Bristol Herald Courier
, 18 July 2010.
Tate Springs Resort and Hotel 1865-1941
Tate Springs Springhouse
"Tate Springs Water: Handsome Exhibit to Be Made in Two Buildings at the Centennial."
Nashville American
, 1 May 1897, page 22.