On 29 January 1861, Kansas was admitted to the Union. Kansas Day, which commemorates this anniversary, has been celebrated since 1877. Students in L. G. A. Copley's class in Paola, Kansas gathered as much information as they could about Kansas and on 29 January 1877, they drew the state seal and maps on the blackboard, gave speeches, and asked and answered questions about Kansas history. The following year, his class again studied Kansas history on January 29. Copley became superintendent of schools in Wichita in 1879, and for the next three years, Kansas Day was observed in the Wichita schools. In 1881, Copley published an article in
The Educationist
and suggested that other schools try Kansas Day exercises.
In 1882, the Northwestern Kansas Teachers met in Beloit. Copley spoke about Kansas Day, and a Kansas Day booklet was printed. Since then, Kansas Day has been observed in Kansas schools.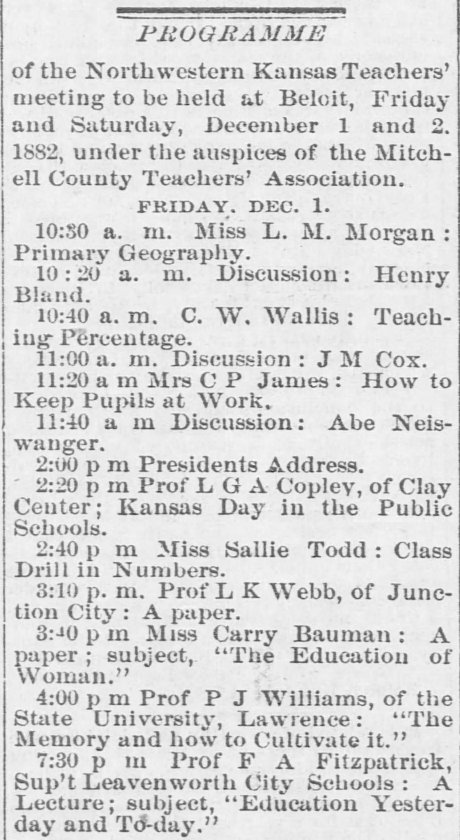 Phillipsburg Herald (Phillipsburg, KS), 30 November 1882, page 3
The Governor of Kansas and the Kansas Legislature issue special Kansas Day proclamations. The Kansas state song "Home on the Range" is performed. A Kansas Day cake is presented at the Kansas State Capitol.
My
2nd-great-grandfather
's brother Sven T. Anderson (Sven Troedsson) was living in Kansas by 1885. His children probably participated in Kansas Day exercises at school.
References
Copley, L. G. A.
Kansas Day, Brochure of Information and Exercises for Use in Every Kansas School, Containing Kansas History
. Clay Center, Kansas: Dispatch Printing House, 1882. Available from
archive.org
.
Kansas Day at the Capitol
Kansas Historical Society.
Kansas Day
.