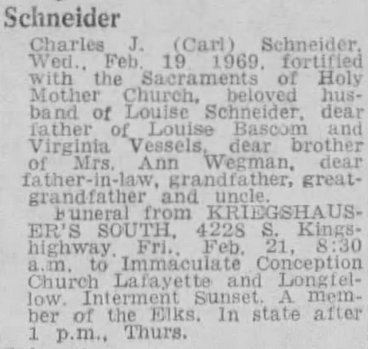 St. Louis Post-Dispatch, 19 February 1969, page 23D
Schneider
Charles J. (Carl) Schneider, Wed., Feb. 19, 1969, fortified with the Sacraments of Holy Mother Church, beloved husband of Louise Schneider, dear father of Louise Bascom and Virginia Vessels, dear brother of Mrs. Ann Wegman, dear father-in-law, grandfather, great-grandfather and uncle.
Funeral from KRIEGSHAUSER'S SOUTH, 4228 S. Kings-highway, Fri., Feb. 21, 8:30 a.m., to Immaculate Conception Church Lafayette and Longfellow. Interment Sunset. A member of the Elks. In state after 1 p.m., Thurs.
Carl J. Schneider was the son of my 2nd-great-grandparents
Carl Joseph Schneider
and Christina Nagel. He was born on 17 March 1885 in Remagen, Ahrweiler, Rheinland-Pfalz (Rhineland-Palatinate), Germany. He and his family emigrated in 1892, and he grew up in St. Louis, Missouri. He married Louise Scheffer on 12 June 1912 in St. Louis. They had twin daughters, Louisa Virginia and Virginia Louisa, born on 21 March 1915. He died on 19 February 1969 and was buried in Sunset Memorial Park in
Affton, St. Louis County, Missouri.