My first cousin twice removed
Louise Margaret Gray
owned Lakeport Grocery in Lakeport, New York. I am not sure when she purchased the store, but I know that she owned it while she was married to her third husband
Leonard D. Smith
. The store was later known as Fox's Lakeport Grocery after she married her fourth husband Maurice Otis Fox.
The store was a grocery and a service station. A 6-room house was attached to the store.

Post-Standard (Syracuse, NY), 2 August 1968
Milk was available in disposable containers.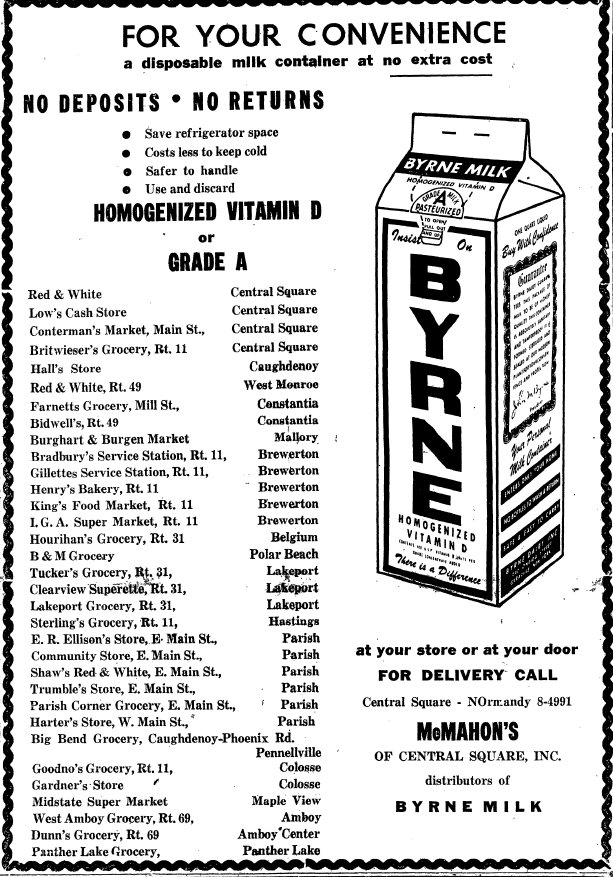 Mexico Independent (Mexico, NY), 29 August 1955
Beer was also available for purchase.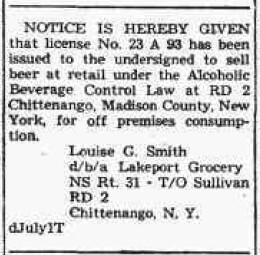 Madison County Times (Chittenango, NY), 1 July 1960
S&H Green Stamps
were given to the store's customers.

Post-Standard (Syracuse, NY), 16 February 1950
When Louise was in the process of retiring, a grocery store auction was held. The ad for the sale included a list of the store's contents.

Daily Sentinel (Rome, NY), 11 August 1971
Louise owned the store until at least 1973.