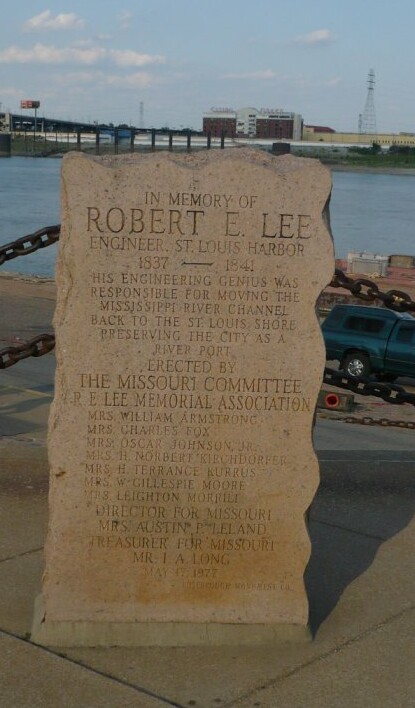 Today is the birthday of Robert E. Lee. Although he is best known as a Confederate general, this marker honors a different accomplishment of his: he was an engineer for the St. Louis harbor. I photographed the marker in 2012 when a cousin and I took a trip to St. Louis, Missouri. It is located by the Mississippi River.
IN MEMORY OF
ENGINEER, ST. LOUIS HARBOR
1837 –– 1841
HIS ENGINEERING GENIUS WAS
RESPONSIBLE FOR MOVING THE
MISSISSIPPI RIVER CHANNEL
BACK TO THE ST. LOUIS SHORE
PRESERVING THE CITY AS A
RIVER PORT
R.E. LEE MEMORIAL ASSOCIATION
MRS. WILLIAM ARMSTRONG
MRS. CHARLES FOX
MRS. OSCAR JOHNSON, JR.
MRS. H. NORBERT KIRCHDORFER
MRS. H. TERRANCE KURRUS
MRS. W. GILLESPIE MOORE
MRS. LEIGHTON MORRILL
DIRECTOR FOR MISSOURI
MRS. AUSTIN B. LELAND
TREASURER FOR MISSOURI
MR. I. A. LONG