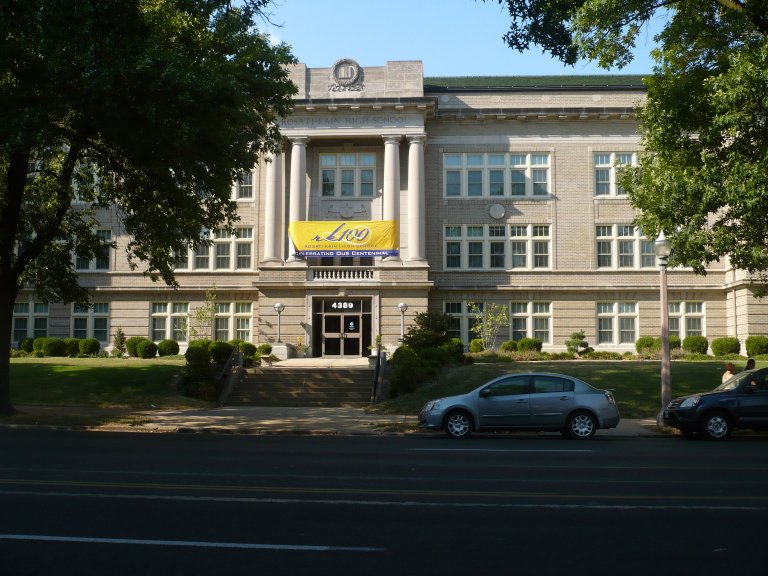 The
Rosati-Kain High School
is an all-girls Catholic high school in St. Louis, Missouri. It was formed in 1912, when the Rosati Center and the Kain High School (formed in 1911 by the
School Sisters of Notre Dame
and the
Sisters of St. Joseph of Carondelet
) joined together. The school was named after
Joseph Rosati
, the first bishop of the Diocese of St. Louis, and
John Joseph Kain
, the second archbishop of the
Archdiocese of St. Louis
. It was originally located at Lucas and Grand Avenues at the St. Vincent Seminary site. For the first nine years, the sisters taught without pay. Their expenses were covered by the motherhouses and by teaching music and needlework. In 1919, the school moved to the Hayes Mansion on Newstead Ave. at the corner of Lindell Boulevard. In 1921, the Hayes Mansion was moved to the northwest corner of the lot. A new building located at 4389 Lindell Boulevard, designed by architect Henry P. Hess, was completed in 1922. A new wing was added in 1941.
The Rosati-Kain High School is the first and the oldest archdiocesan high school in the Archdiocese of St. Louis, and it is now the only archdiocesan all-girls college-preparatory high school in the St. Louis area.
My maternal grandmother
Margaret Ann Schneider
attended the Rosati-Kain High School. The school celebrated its centennial during the 2011-2012 school year. The centennial banner was displayed when I visited St. Louis in August 2012 and took the above photo.
References
Our History | Rosati-Kain Catholic High School
Rosati-Kain High School