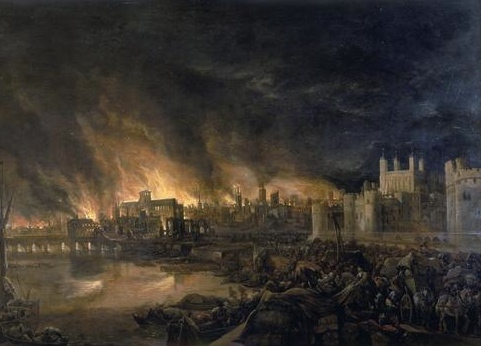 Cropped version of the painting Great Fire of 1666. Available from Wikimedia Commons. Full version available from the Museum of London.
During the early morning hours of Sunday, 2 September 1666, a fire started in Thomas Farriner's bakery shop on Pudding Lane, and spread to his house. Farriner and his family escaped out a window, but a maid became the first casualty of the fire.
Sir Thomas Bloodworth
, Lord Mayor of London, was summoned, but he would not allow buildings to be demolished to prevent the fire from spreading. The fire spread to the Star Inn stables across the street, down Fish Hill and toward the Thames, and then to riverfront warehouses and London Bridge. The
Church of St. Magnus the Martyr
was destroyed. The fire spread north and west on Monday, September 3. On Tuesday, September 4,
St. Paul's Cathedral
was destroyed. Houses were blown up to create breaks to help stop the spread of the fire. The Great Fire of London ended on Wednesday, 5 September 1666, but smaller fires continued to burn until Thursday, 6 September 1666.
The Great Fire of London destroyed 13,200 houses (the homes of 70,000 of the city's 80,000 inhabitants), 87 parish churches and St. Paul's Cathedral, and the majority of the buildings of the city authorities. Only a few people are known to have died during the fire, but the death toll is probably much higher because the deaths of many poor and middle-class people may not have been recorded, and people may have been cremated in the fire, leaving no identifiable remains.
I do not know if I had ancestors in London at the time of the fire, but I had ancestors in Widdington, Essex County, England. Surely they would have heard about such a major event.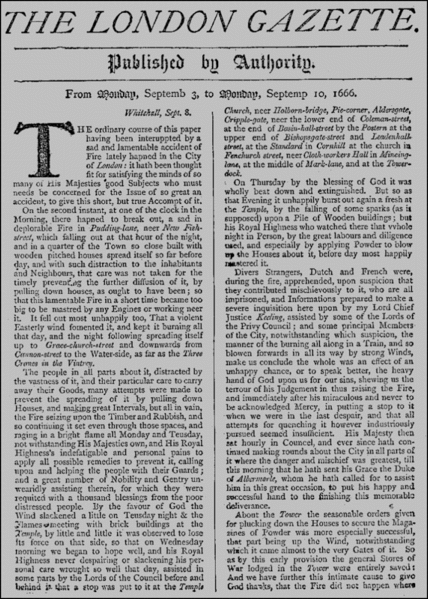 London Gazette, Monday, 3 September 1666 to Monday, 10 September 1666. Available from Wikimedia Commons.
References
Great Fire Full Story
Great Fire of London
The Great Fire of London of 1666
The Great Fire of London 1666
The Great Fire of London: Myths and Realities
London's Burning: The Great Fire
This Day in History: Great Fire of London Begins
Timeline of the Great Fire