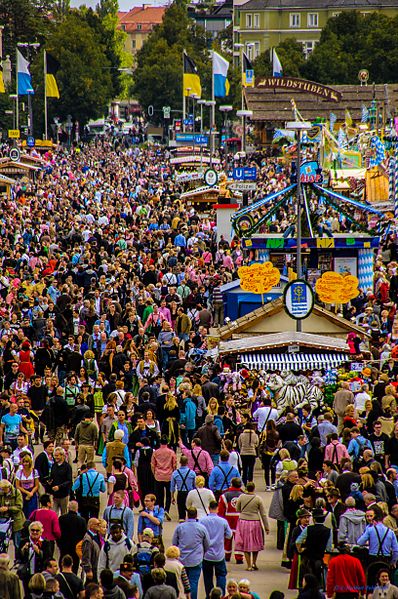 Oktoberfest is a 16-day festival which is held annually in Munich, Bavaria, Germany from late September to the first weekend in October. This year it is being held from 20 September to 5 October 2014.
The first Oktoberfest was held in 1810 and was a celebration of the marriage of
Therese von Saxe-Hildburghausen
and
Ludwig I of Bavaria
. The fields in front of the city gates were named Theresienwiese ("Therese's meadow") and are now also referred by the abbreviated name "Wiesn".
At noon on 20 September, the mayor of Munich will tap the first keg of beer. There will be 14 beer tents. Traditional Bavarian food will be available, including roast chicken, roast pork, sausages, and dumplings. There will be amusement rides and games. On the first Sunday, the costume parade will march through the streets of Munich.
There is an
Oktoberfest app
which provides information about the beer tents, the history of Oktoberfest, and Bavarian expressions.
Oktoberfest.de
has Webcams, so you can view the festival even if you are unable to attend.
References
Oktoberfest
Oktoberfest.de