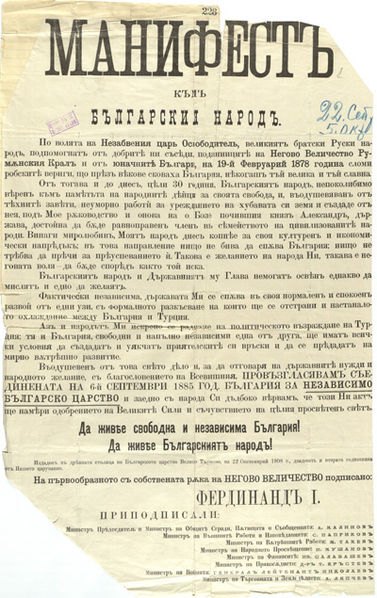 Български:

Манифестът за независимостта (Bulgarian Manifesto of Independence). Ferdinand I of Bulgaria. 22 September 1908. Available from Wikimedia Commons.
Bulgaria's independence from the
Ottoman Empire
was proclaimed by Prince
Ferdinand I of Bulgaria
on 22 September 1908 according to the Julian calendar (Old Style), 5 October 1908 according to the Gregorian calendar (New Style). Independence was proclaimed at
Holy Forty Martyrs Church
in
Veliko Tarnovo
.
Independence Day is celebrated on September 22. Veliko Tarnovo is the center of the celebrations. This year there will be a service at Holy Forty Martyrs Church, a flag blessing ceremony at
Vasil Levski National Military University
, a flag-raising ceremony, public addresses by statesman and officials, concerts, chain dances, and a laser show at the medieval stronghold
Tsarevets
. In Sofia, events will begin at
Alexander of Battenberg Square
. There will be an address by the mayor of Sofia. The Sofia Brass Band will perform in front of the
Monument to the Unknown Soldier
.
I have Bulgarian family members; my cousin's wife is Bulgarian, and their children, my first cousins once removed, are half Bulgarian.
References
Bulgaria marks Independence Day
Bulgaria's capital to mark Independence Day
Bulgaria's Veliko Tarnovo to mark Independence Day
Bulgarian Declaration of Independence