Just before 3:00 PM on 28 May 1905, Martha Ann (Gower) Gatlin, the wife of my
3rd-great-grandfather
's brother
John G. Gatlin
as well as my third cousin five times removed, decided to visit Mt. Olivet Cemetery in Nashville, Tennessee after having dinner at the home of her nephew, Robert Page. She probably had dinner with his widow, children, and mother; Robert, the son of her husband John's sister Nancy, died in 1898. As she moved closer to the Fairfield line's track at the intersection of University and Washington Streets, a streetcar approached. Members of Richland Lodge, Junior Order United American Workmen were on board. As Martha crossed the track, the motorman rang his gong, but she did not appear to hear it. She was struck by the streetcar and thrown to the side of the street. She had been knocked unconscious, and was taken to her nephew's home. She died there at 5:27 PM.

Nashville American, 29 May 1905, page 8
Although the article in the
Nashville American
stated that she left no children, she had
adopted a daughter
, Minnie Gatlin (born Tennessee Reed), in 1874.
Martha was buried in Mt. Olivet Cemetery, by her husband John.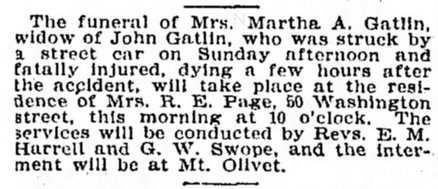 Nashville American, 30 May 1905, page 9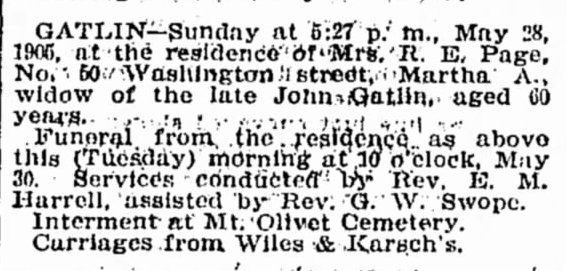 Nashville American, 30 May 1905, page 9