On 25 August 1798, the New Bern, Craven County, North Carolina newspaper
Newbern Gazette
published a notice which stated that seven slaves belonging to William Dew of Edgecombe County, North Carolina had run away.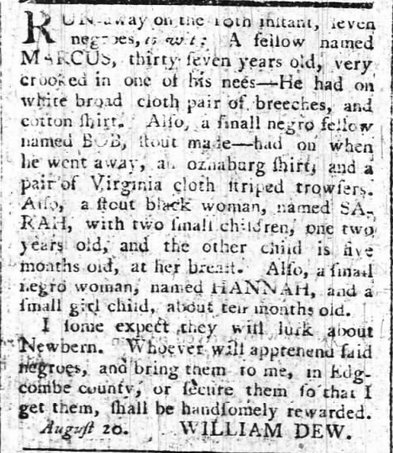 Newbern Gazette, 25 August 1798, page 3
RUN away on the 10th instant, seven negroes,
to wit:
A fellow named MARCUS, thirty seven years old, very crooked in one of his nees
–

–
He had on white broad cloth pair of breeches, and cotton shirt. Also, a finall negro fellow named BOB, stout made
–
–
had on when he went away, an oznaburg shirt, and a pair of Virginia cloth striped trowsers. Also, a stout black woman, named SARAH, with two small children, one two years old, and the other child is five months old, at her breast. Also, a finall negro woman, named HANNAH, and a small girl child, about ten months old.
I some expect they will lurk about Newbern. Whoever will apprehend said negroes, and bring them to me, in Edgcombe county, or secure them so that I get them, shall be handsomely rewarded.
August 20.
WILLIAM DEW.
One of the slaves, Marcus, was captured and jailed in Jones County, North Carolima. A notice was placed in the 22 December 1798 issue of the
Newbern Gazette
. William Dew was asked to reclaim Marcus after proving ownership and paying charges.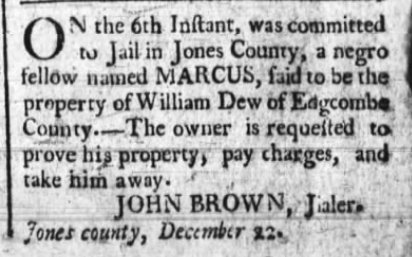 Newbern Gazette, 22 December 1798, page 3
ON the 6th Instant, was committed to Jail in Jones County, a negro fellow named MARCUS, said to be the property of William Dew of Edgcombe County.
–
–
The owner is requested to prove his property, pay charges, and take him away.
JOHN BROWN, Jialer.
Jones county, December 22.