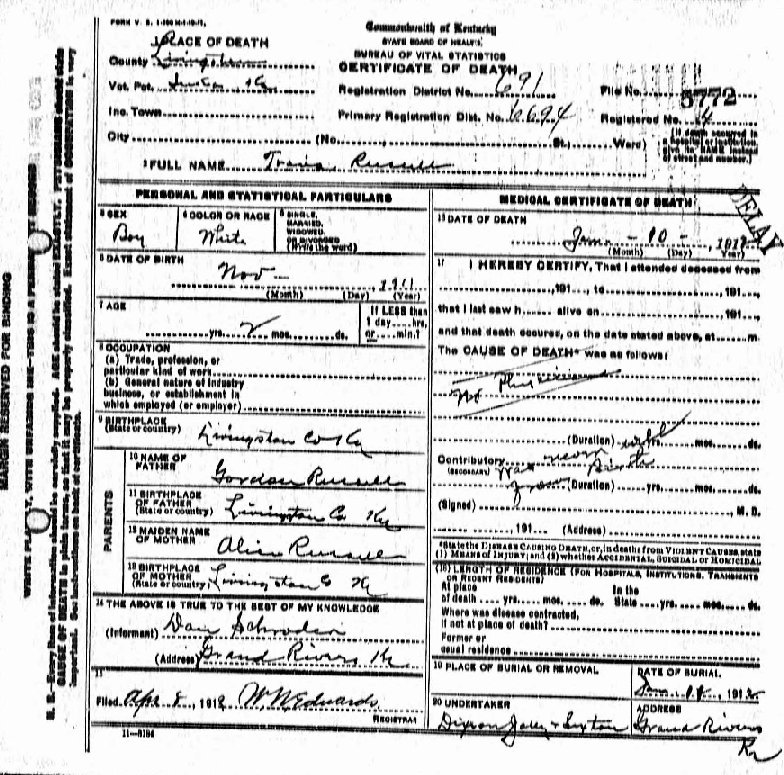 Commonwealth of Kentucky, Bureau of Vital Statistics. Certificate of death, Travis Russell. Ancestry.com. Kentucky, Death Records, 1852-1963 [database on-line]. Provo, UT, USA: Ancestry.com Operations Inc, 2007.Original data: Kentucky. Vital Statistics Original Death Certificates – Microfilm (1911-1955). Microfilm rolls #7016130-7041803. Kentucky Department for Libraries and Archives, Frankfort, Kentucky.
Travis Russell was born in November 1911 in Livingston County, Kentucky. He was the son of John Gordon Russell and Alice Isabel Schroder. He died on 10 January 1912 in Livingston County, Kentucky.
Travis was my second cousin four times removed. His father John Gordon Russell was the son of John D. Russell and Elizabeth Wilson. John was the son of Archibald Mills Russell and Margaret Harding. Mills was the son of my 5th-great-grandparents
Andrew Russell
and
Hannah Hardgrave
.