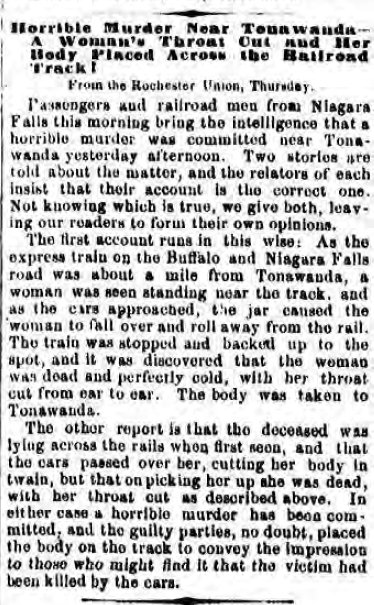 Atlas and Argus (Albany, NY), 20 October 1860, page 2
On 17 October 1860, a woman's body was found on the tracks of the Buffalo and Niagara Falls road, about a mile from Tonawanda, Erie County, New York. One person reported that the woman was standing near the track and fell over as a train approached. The train stopped, and it was discovered that the woman was dead. Her throat had been cut. Another person reported that the woman's body was lying on the tracks and was run over by a train. Her body was cut into two, but it was discovered that her throat had previously been cut. Either way, the killer apparently wanted the woman's death to seem to be the result of a railroad accident.
My 3rd-great-grandparents
John
and
Ann
(Walker) Winters were living in Tonawanda at the time that the murder took place.They probably heard about it.