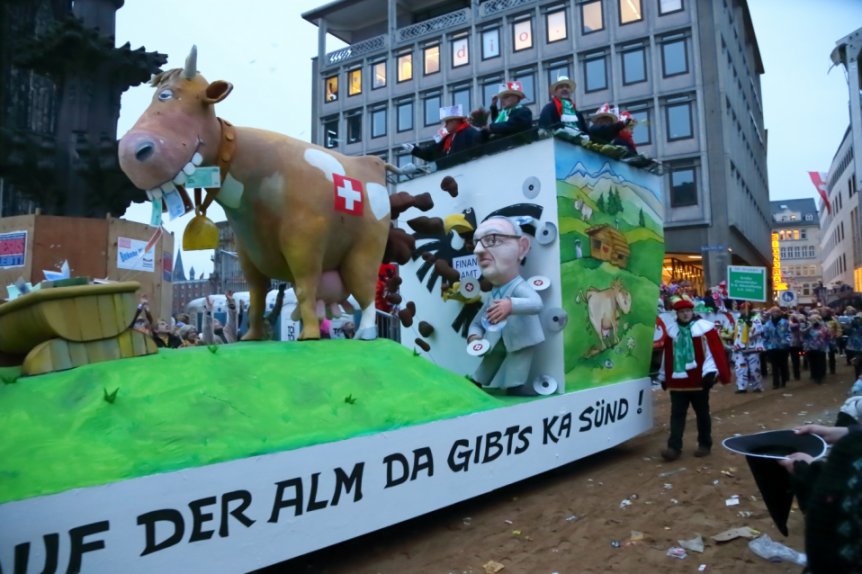 Rosenmontag float, Köln, 2013. Photo by MatthiasKabel [GFDL (http://www.gnu.org/copyleft/fdl.html) or CC BY-SA 3.0 (http://creativecommons.org/licenses/by-sa/3.0)]. Available from Wikimedia Commons.
Rosenmontag
(Rose Monday) is celebrated in German-speaking countries on the Monday before Ash Wednesday, which is February 8 this year. It is the highlight of
Karneval,
the pre-Lenten celebration. The day is traditionally celebrated with parades. The biggest parade is held in Köln (Cologne). Large parades are also held in Mainz and Düsseldorf. Parades can last three to five hours, and include large floats, marching bands, and local associations. Many of the floats make fun of politicians and news events, and can be controversial. Flowers and sweets are thrown to the spectators from the floats. Spectators often dress up in costumes.
References
Fasching and Karneval
Karneval, Fastnacht und Fasching
Parade on Rose Monday
Rose Monday Parade - Carnival Monday in Duesseldorf
Rosenmontag
Shrove Monday in Germany