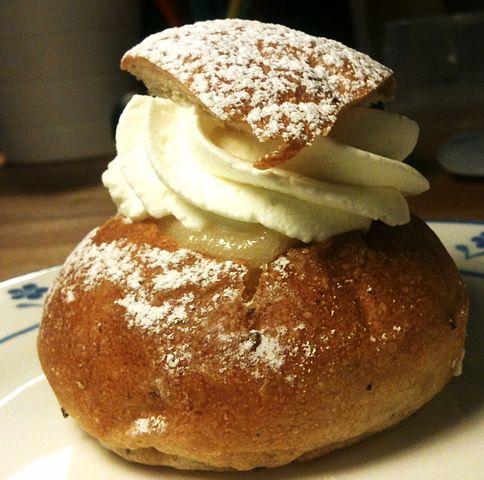 Semla or fastlagsbulle (Swedish), laskiaispulla (Finnish) or fastelavnsbolle (Danish and Norwegian), traditional roll, associated with Lent and especially Shrove Monday or Shrove Tuesday. 22 February 2012. Photo by poo [CC BY-SA 3.0 (http://creativecommons.org/licenses/by-sa/3.0)]. Available from Wikimedia Commons.
Fettisdagen
(Fat Tuesday) is the Swedish name for Shrove Tuesday, the last day before the beginning of the Lenten fast. Buns called
semla
,
fastlagsbullar
, or
fettisdagsbullar
are traditionally eaten on this day. Since Swedes no longer observe a strict Lenten fast,
semlor
(plural of
semla
) are eaten every Tuesday between Fettisdagen and Easter. They are available in stores and bakeries shortly after Christmas. Swedish bakers sell 2 million
semlor
on
Fettisdagen
. The coffee shop
Vette-Katten
sells 14,000
semlor
on
Fettisdagen
.
Semlor
are cardamom spiced wheat buns which have had the tops cut off and the insides scooped out, and then are filled with almond paste and topped with whipped cream and sugar. They may be eaten with coffee or tea, or submerged in bowls of warm milk.
References
Fettisdagen
Get to know the famous Semla!
Semla
The semla – more than just a bun
Shrove Tuesday (Fettisdagen)