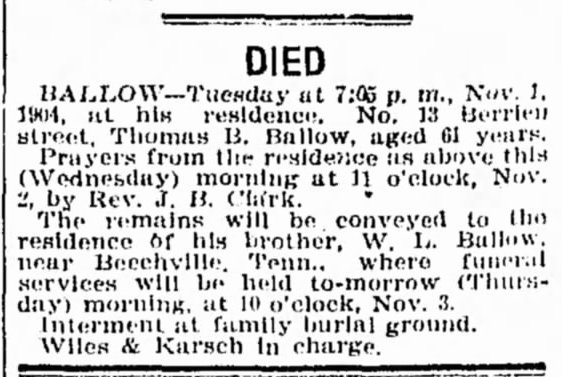 Nashville American, 2 November 1904, page 6
DIED
BALLOW–Tuesday at 7:05 p.m., Nov.1, 1904, at his residence, No. 13 Berrien street, Thomas B. Ballow, age 61 years.
Prayers from the residence as above this (Wednesday) morning at 11 o'clock, Nov. 2, by Rev. J. B. Clark.
The remains will be conveyed to the residence of his brother, W. L. Ballow, near Beechville, Tenn., where funeral services will be held to-morrow (Thursday) morning, at 10 o'clock, Nov. 3.
Interment at family burial ground.
Wiles & Karsch in charge.
Thomas Burwell Ballow was born in Tennessee on 29 December 1904. He was the son of Robert S. Ballow and Martha Ann Temple. He married Helen M. Ballow on 6 October 1870 in Williamson County, Tennessee. They had a daughter, Eugenia Temple Ballow (born 2 August 1871), and a son, Robert S. Ballow (born November 1879). He married my
2nd-great-grandfather
's sister Sarah Jane Tarkington on 13 October 1885 in Davidson County, Tennessee. They had a son, Thomas Burwell Ballow (born 23 March 1895), and a daughter, Elizabeth Fort Ballow (born 2 October 1899). Thomas died in Nashville, Tennessee on 1 November 1904.