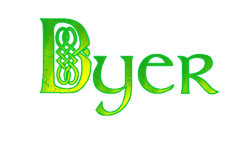 According to
Irish Ancestors
'
Surname History
, the surname Dyer is an anglicized version of
Ó Duibhir
(grandson of the dark brown [man]) or
Mac Duibhir
(son of the dark brown [man]). This variant is found in counties Sligo and Roscommon.
Irish Ancestors also includes
information from the surname dictionary
Sloinnte na hÉireann
. According to this dictionary, the surname Dyer is found in county Mayo, Belfast, and scattered other areas. Dyer is an English occupational name. It is also a form of the Irish name
Mac Duibhir
, and is also found as MacDyer.
My known Dyer ancestors are:
2nd-great-grandmother:
Sarah Claire "Sadie" Dyer
born 8 October 1863, Nashville, Davidson Co., Tennesssee
married John William Morton Gatlin 26 June 1881, Nashville, Davidson Co., Tennessee
died 20 January 1945, Chicago, Cook Co., Illinois
3rd-great-grandfather:
Michael Dyer
born about 1829, Co. Roscommon, Ireland
married
Mary
died 3 June 1870, Nashville, Davidson Co., Tennessee