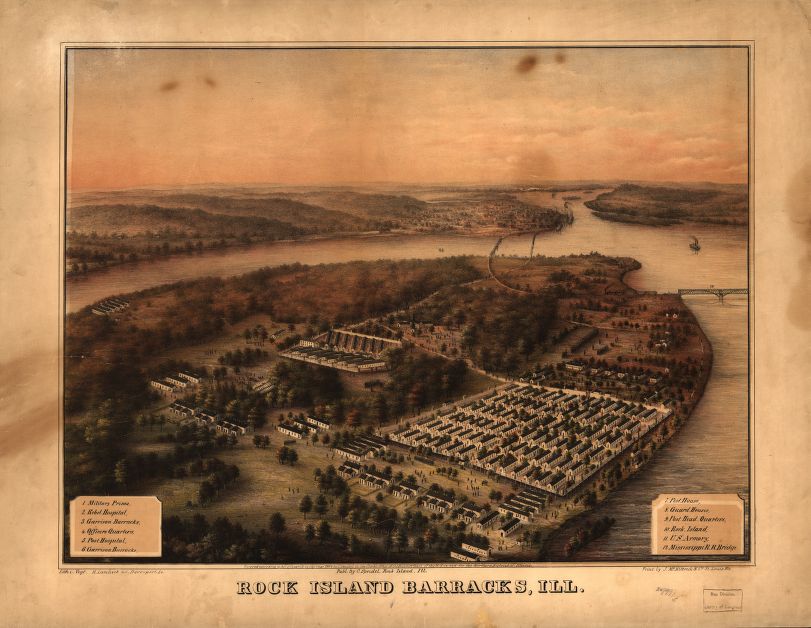 Speidel, C. Rock Island Barracks, IL. Rock Island, Ill., C. Speidel, 1864. Available from http://www.loc.gov/item/99447349.
Since April is
Confederate History Month
, I thought it would be a good time to write about John G. Gatlin (a Confederate soldier and my 3rd-great-grandfather
William Dow Gatlin
's brother) and the place where he was held prisoner, Rock Island Barracks in Rock Island, Illinois. John was a private in the 10th Regiment, Tennessee Cavalry, Company D.
Rock Island Barracks was constructed in 1863, and in December, the first prisoners arrived. John G. Gatlin was captured near Knoxville on 3 December 1863 and was confined on 6 January 1864. The prison was not quite finished when the earliest prisoners began to arrive. The winter was extremely cold, and clothing and blankets were in short supply. All the prisoners were exposed to smallpox. A hospital had not yet been built, and disease spread. Many prisoners died.
By July 1864, the prison hospital was finished, and conditions improved. Some of the prisoners helped to construct the camp's reservoir and sewer system and were able to earn money for their labor. Prison labor was voluntary.
John signed an oath of allegiance to the United States and was released on 21 March 1865. The last prisoners at Rock Island Barracks were released in July 1865. The prison buildings no longer remain; only the cemeteries still exist.
References
England, Otis Bryan.
A Short History of the Rock Island Prison Barracks (Revised Edition)
. Rock Island, IL: Historical Office, U.S. Army Armament, Munitions and Chemical Command, 1985. Available from
http://www.jmc.army.mil/Docs/History/Short%20History%20of%20the%20RIA%20Prison%20Barracks.pdf
.
Walker, T. R. "Rock Island Prison Barracks."
Civil War History
8 no. 2 (June 1962): 152-163.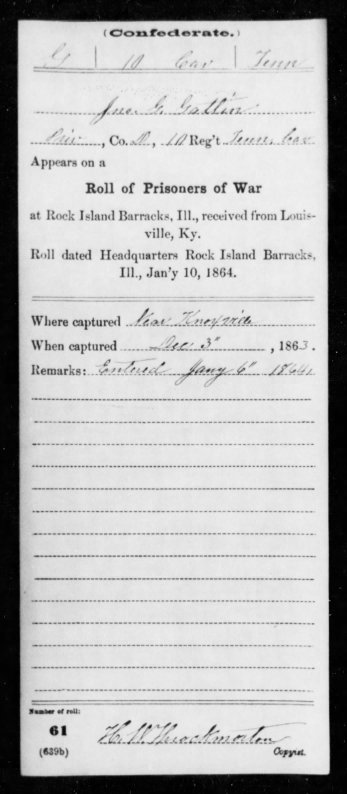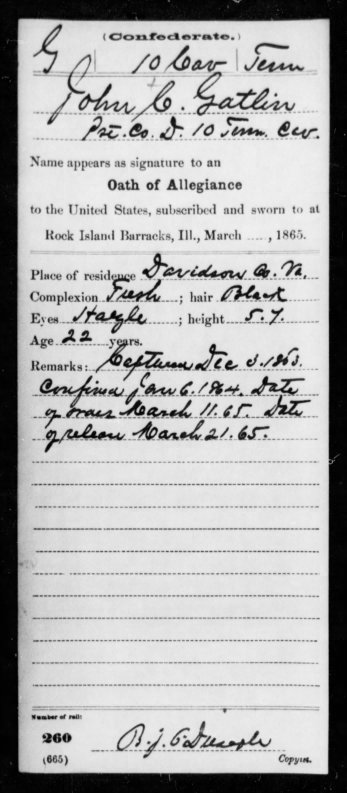 John G. Gatlin compiled service record. Compiled Service Records of Confederate Soldiers Who Served in Organizations from the State of Tennessee. NARA microfilm publication M268A, roll 0044 . ARC ID: 586957. War Department Collection of Confederate Records, Record Group 109. The National Archives at Washington, D.C.