My 2nd-great-grandmother Marie Louise Borg has been pretty easy to research. Her name and correct dates of birth are listed in my father's baby book. My father remembered her, and told me that he knew her as "Denny." A family photograph of the Borg family is clearly labeled on the back; it lists the names of everyone in the picture, and includes the married names of the Borg daughters. I have located her in every census except 1870.
Marie (also known as Mary) Louise Borg was born on 13 January 1864 in Porter County, Indiana. She was the daughter of John (Johannes) Borg and Johanna Carolina Samuelson, who had emigrated from Västra Harg,Östergötland, Sweden in the 1850s. She grew up as part of a large family (she was the third of eleven children). I have several family photos of the
house
that the Borg family lived in, which was located in the Swedish community of Baillytown.
In 1880, Marie was
keeping house for her uncle
Samuel August Samuelson in Westchester Township, Porter County. His wife had died, and he had five young children to take care of. His 70-year-old mother-in-law lived with the family as well. On 20 December 1885, Marie married Charles John Dahlquist, a Swedish immigrant from Kinneved, Västra Götaland, Sweden. He lived in Chicago, Illinois and worked as a
shoe dealer
. They married at the Swedish Lutheran Church in Baillytown, Porter County, Indiana. Reverend A. Challman solemnized the marriage. I was fortunate to find their marriage announcement from the
Chesterton Tribune
transcribed
on the Porter County, Indiana message board. I later located the original record.
After her marriage, Marie moved to Chicago to live with her husband. Their first child, my great-grandmother
Ellen Victoria Dahlquist
, was born on 8 September 1886. They had three more children: Carl Frederick Dahlquist (born 10 January 1888), Martin Luther Dahlquist (born 22 February 1891), and
Juliet Caroline Marie Dahlquist
(born 14 July 1896).
In 1900, the family lived at 6031 State Street, Chicago, Illinois. By 1910, they had moved to 6311 Eggleston Avenue in Chicago. Marie and Charles became grandparents on 27 September 1911, when my paternal grandmother
Helen Martha Marie Anderson
was born. Helen's two middle names were the names of her grandmothers.
On 30 July 1919, Marie lost her son Martin Luther after his appendix ruptured. His only child and her sixth grandchild had been born nine days earlier.
By 1930, Marie and Charles were living on 509 W. 61st Place, in Chicago, in the home of their daughter Juliet and her husband
Fritz Arthur Gilbert
. They were still living there in 1940.
On 14 September 1942, Marie's husband Charles died.
Marie had surgery in 1949, and it was discovered that she had pancreatic cancer. She died of uremia at the Augustana Home for Aged in Chicago, Illinois. She was buried in
Oak Hill Cemetery
, which had been established for Swedish families in Chicago.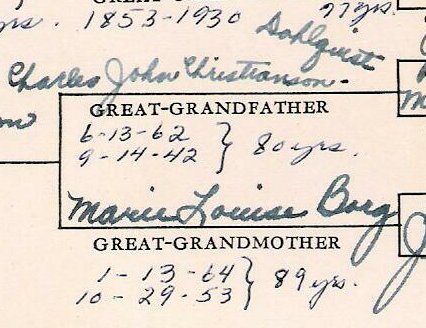 From my father's baby book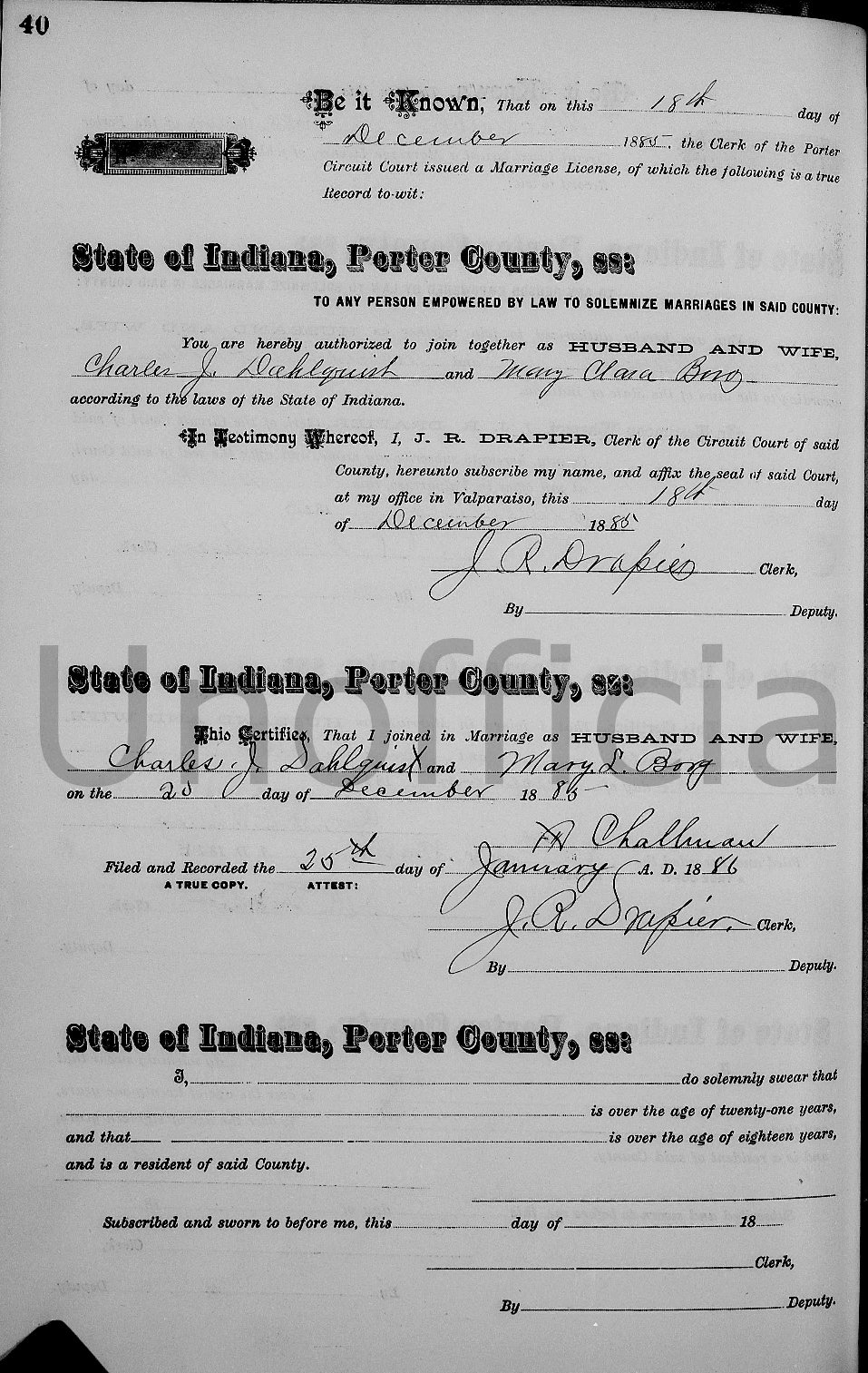 Indiana Marriages, 1811-2007, database with images, FamilySearch (https://familysearch.org/ark:/61903/1:1:KDHQ-35C), Charles J Dahlquist and Mary Clara Borg, 20 Dec 1885; citing Valparaiso, Porter, Indiana, county clerk offices, Indiana; FHL microfilm 1,686,157. Mary's middle name is incorrect on the document. Note that when Rev. A. Challman filled out the form, he gave her name as Mary L. Borg.

1930 United States census, Chicago, Cook County, Illinois, Ward 17, population schedule, enumeration district 16-647, sheet no. 4B. Ancestry.com. 1930 United States Federal Census [database on-line]. Provo, UT, USA: Ancestry.com Operations Inc, 2002.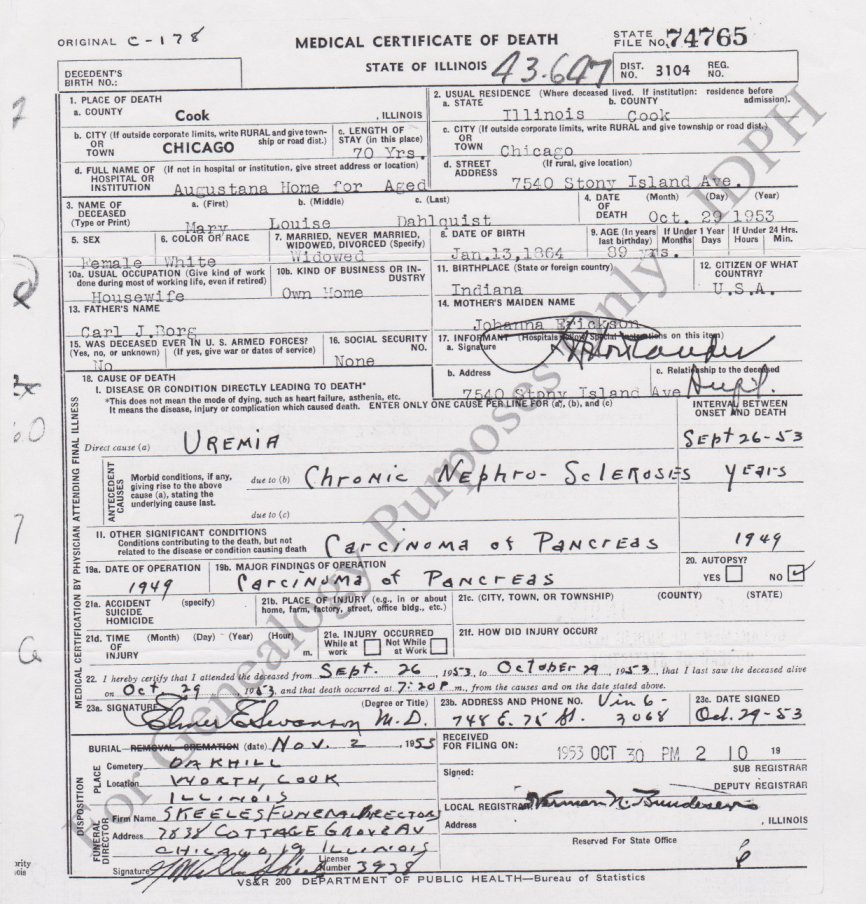 Medical certificate of death, State of Illinois. State file no. 74765. Mary Louise Dahlquist. 29 October 1953.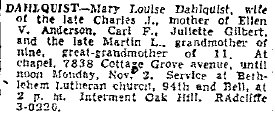 Chicago Tribune, 31 October 1953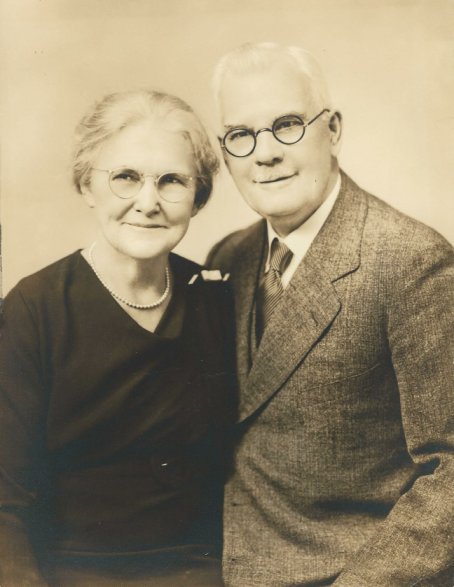 Marie and Charles Dahlquist