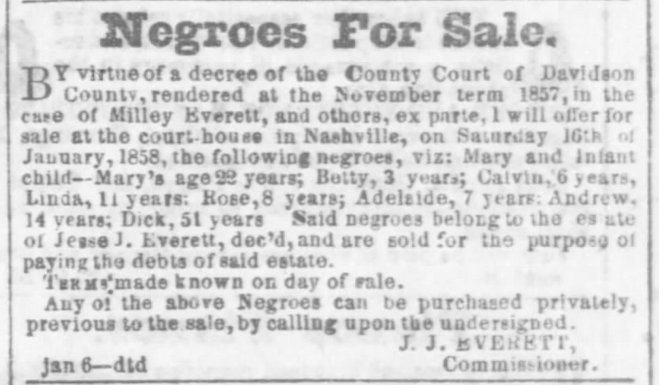 Nashville Union and American, 16 January 1858, page 3
Negroes For Sale
By virtue of a decree of the County Court of Davidson County, rendered at the November term 1857, in the case of Milley Everett, and others, ex parte, I will offer for sale at the court-house in Nashville, on Saturday 16th of January, 1858, the following negroes, viz: Mary and infant child
–
Mary's age 22 years; Betty, 3 years; Calvin, 6 years; Linda, 11 years; Rose, 8 years; Adelaide, 7 years; Andrew, 14 years; Dick, 51 years. Said negroes belong to the estate of Jesse J. Everett, dec'd, and are sold for the purpose of paying the debts of said estate.
TERMS made known on day of sale.
Any of the above Negroes can be purchased privately, previous to the sale, by calling upon the undersigned.
J. J. EVERETT,
jan 6
–
dtd Commissioner.